News
EV-K2-CNR playing key role in scientific research: Prof Dr. Kafle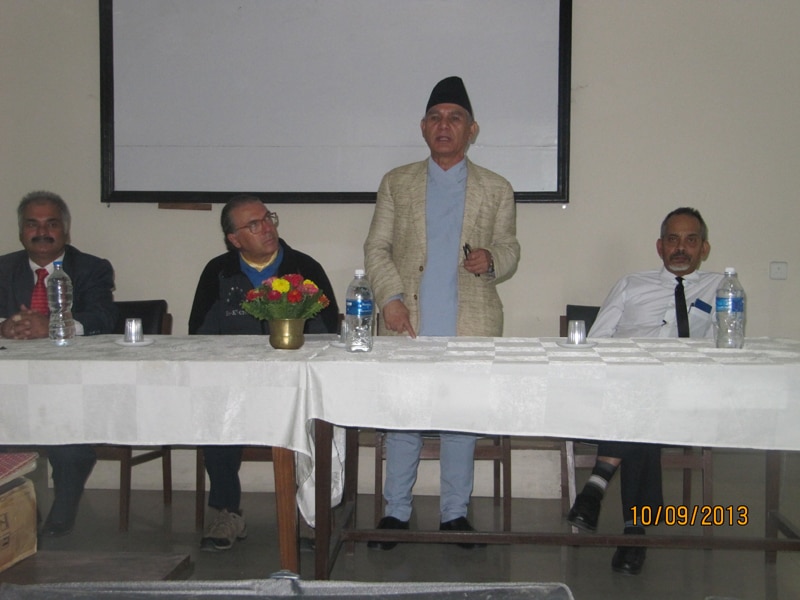 KATHMANDU, Nepal-Vice Chancellor of Nepal Academy of Science and Technology (NAST) Prof. Dr. Surendra Raj Kafle has lauded the role of Ev-k2-CNR in the field of high altitude research and climate change in Nepal.
Addressing   a workshop on Metrology and Meteorology, jointly organized by Ev-K2-CNR and NAST on Tuesday, Vice Chancellor Kafle said Ev-k2-CNR was playing a key role in scientific research in the country.   'Leading research organization like Ev-K2-CNR has been playing a significant part in scientific research in Nepal,' Kafle said.
On the occasion, presenting the working paper, Italian scientist and coordinator of MetoMet project Dr. Andrea Merlone said that they were available to train people in Italy or anywhere in the globe about the climate related issue adding that metrological support could be done through established mind-set.
Andrea also discussed about the European Metrology Research Programme, its status, future activities and research cooperation in the field of metrology.
During the programme, Gin pietro Verza of Ev-K2-CNR Committee expressed his 20 years long experience of SHARE project monitoring activities at the Pyramid International laboratory-Observatory and in the Khumbu valley.
Scientist Verza displayed the impact of climate change in the lives of people in high mountain region in Himalaya nations. He informed about drying glacier lakes and ponds due to the snow melting process triggered by climate change in Himalaya.
He also discussed the effect of climate change and seed germination as well as plant diversity in Khumbu valley. In one context, scientist Verza linked the respiratory and cardiovascular disease of people living in Khumbu valley with high altitude.
Similary, Dr. Guido Roggero gave power presentation on Bringing Traceability to meteorological measurements while Dr. Alba Gilabert talked about the importance of the generation of quality measurements from the Himalaya data series for climate evolution analysis.
During the programme, scientist Dr. Bhupesh Adhikari of SHARE project compared the level of air pollution in Nepal with India China among other SAARC countries.
During a daylong workshop, Dr. Andrea  also provide training on temperature, pressure, humidity, wind and solar radiation while Dr. Guuido  trained on measurements, calibrations and mutual influences, sensors and devices.
NAST's secretary Prof. Dr. Prakash Chandra Adhikari, among other staffs also addressed the workshop. Likewise, Nepali scientist Dr. Diwas Shrestha also presented the slide show on NAST's activities on meteorology and related fields.
EV-K2-CNR, an Italian based nonprofit research agency has been carrying out various research work by setting up the pyramid Laboratory in Khumbu valley of Nepal at an altitude of 5050 meters.