News
Two seven-thousanders named after climbing legends Tenzing, Hillary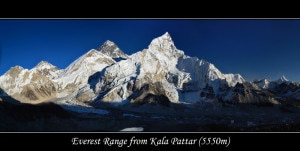 KATHMANDU, Nepal- Two new peaks that lie between Mount Everest and Mount Cho-Oyu have been named after the mountaineering legends Tenzing Norgay Sherpa and Sir Edmund Hillary.
A sub-committee formed under the coordination of former president of Nepal Mountaineering Association Ang Tshering Sherpa has recommended the names of the peaks that lie between Mt Everest and Mt Cho-Oyu in honour to the climbing legendary.
The committee has also recommended names for all the 165 peaks that the government is planning to open for expedition and adventure sports in the near future.
According to Sherpa' among the 165 new peaks' there were two peaks between Mt Everest and Mt Cho-Oyu' which had not been named. "We have named the mountains as Hillary Peak (7681 metres) and Tenzing peak (7916 metres)'" he said.
Both Tenzing of Nepal and Hillary from New Zealand had successfully the climbed the world's highest peak Mount Everest for the first time on May 29, 1953. Since then nearly 5000 people have climbed the peak.
Similarly, the sub-committee has proposed that two unclimbed peaks that lie near Annapurna I be named after two French climbers—Maurice Herzog and Louis Lachenal. The mountains proposed to be named after Herzog and Lachenal are 7,555 m and 7,140 m high respectively.
On June 3, 1950, Herzog and Lachenal became the first climbers to climb Annapurna I, the 10th highest mountain in the world. This is the first eight-thousander to be climbed. Herzog wrote a book about the expedition which has been translated into 62 languages and has sold more than 22 million copies.
The government of Nepal on May 29, 2013 marked Diamond Jubilee Celebration of the First Ascent of Mt Everest honouring families of both Tenzing and Hilllary along with other scores of mountaineers amidst grand celebrations.