News
Turkish Airlines receives overwhelming booking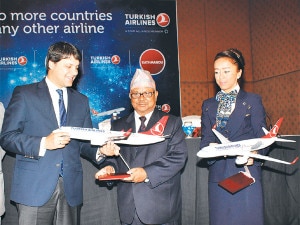 KATHMANDU, Nepal- Turkish Airline, that has begun scheduled flights to Nepal from Monday connecting Nepal directly to Europe after six years gap since the Austrian Airline discontinued its flights then, has received overwhelming bookings, GSA (general sales agent) of the airline said here.
Earlier Nepal Airline Corporation, the national flag carrier of Nepal, used to operate flights to London, Paris and Frankfurt from Kathmandu. Lufthansa of Germany, Transavia Airlines of the Netherlands, Austrian Airlines of Austria and Martin Air of the Netherlands also used to operate flights on Nepal route connecting the Europe with Kathmandu, the capital of Nepal.
But, after Lufthansa cancelled Nepal flights eight years ago and Austrian Airlines discontinued its service to Nepal six years back because of low traffic at that time, there were no scheduled direct flights between Kathmandu and Europe. Passengers have to choose either connecting flights from Middle East countries or from India to fly to Europe.
However, Dutch airline ArkeFly operates charter service between Amsterdam and Kathmandu currently.
According to Zenith Travels, the GSA of the airline, the airline has received cent percent booking for the Kathmandu flights until January. "The booking for Kathmandu-Istanbul sector is also full until November," it said.
Tourism entrepreneur Pravakar Dhital said Turkish Airlines has received overwhelming response because of the increasing number of Nepalis flying to Europe and the US and growing number of tourists to Nepal.
As the airline is establishing direct link with Europe from Kathmandu after a gap of six years and also the cheap fare on the occasion of its flights commencement have lured all towards the airline. The airline has announced promotional fare for round trip at 406 Euros, including taxes.
The airline will fly four times a week on Istanbul-Kathmandu sector.
Besides, the airline has benefited from the beginning of tourist season in Nepal and the academic session in Europe and the US, travel and tour operators said.
Turkish Airline is using 280-seater Airbus A330 aircraft for Kathmandu flights. The maiden land was made at the Tribhuvan International Airport (TIA) at 7:15 am on Monday.
The Air Service Agreement (ASA) between Nepal and Turkey, which was signed in September 2010, allows the two countries to operate 14 flights per week each on Kathmandu-Istanbul sector.
According to the tourism ministry, the number of foreign tourists increased to 803,092 in 2012, up from 421,857 recorded in 1997.