News
Weak Nepali rupees make tourism, export-based industries strong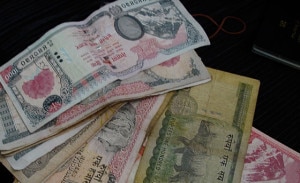 KATHMANDU, Nepal- With the Nepal Rastra Bank setting new exchange rate for US dollar against Nepali currency at Rs. 108.90 per US dollar on Thursday, importers feel panic while exporters and the tourism sector are much happy as the strong US dollar returns them much.
For the last few days US dollar has been hitting new record almost every day against the Nepali currency. The American currency that began climbing from Rs. 84 per US dollar has hit new record of Rs. 108.90 against one US dollar on Thursday. Analysts have predicted that the rise will continue till one US dollar equals to 120 Nepali rupees.
According to travel, tour operators and hoteliers, the rise has brought hay days to their business. "As tourists spend much when they get much rupees in place of US dollars, its obvious that our income is also going up," tour and travel operators said. Hoteliers, on the other hand, also said that they are having good business despite off season. "Though our occupancy is normal due to off season we are having the business as much as of season," Dipesh Subedi, Human Resource Manager at Hotel Annapurna said, adding that the business was the result of gap between the US dollar and Nepali rupees.
"Though we have not taken new bookings as we are renovating the hotel, other hotels have been making good business with profit," Subedi said.
"The situation will definitely boost income of the tourism sector, including travel, rafting and trekking agencies," Nepal Association of Tour and Travel Agents said.
Exporters are also feeling happy with the situation. "We are likely to receive more orders from foreign buyers as rupee's fall has made Nepali goods cheaper for them," Uday Raj Pandey, President, Garment Association Nepal, said. Carpet exporters are also optimistic about benefits in the wake of rupee's crash as they expect more orders and export of their products in the international market.
However, economists are worried on the current situation as this would have long-term effect in the country where large imbalance of export and import has seen in the national economy. "Since we imports much and exports few, the current situation is very difficult one for the country's economy regardless some sectors are gaining," they fear.