News
Bird flu nearly controlled; Consumers can consume poultry products: DoLS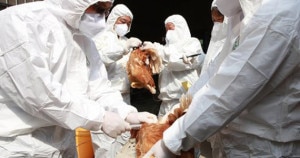 KATHMANDU, Nepal- Amidst panic of possible bird flu epidemic and framers losing millions of rupees within a month with spread of the avian flu, the Department of Livestock Services (DoLS) has said that now the bird flu is under control and consumers can eat the poultry products without any fear.
Speaking at a programme in Kathmandu on Sunday, Dr Nar Bahadur Rajawar, Director General of the department said there are no cases of bird flu in department's notice now.
"Since the fowls infected with bird flu were all culled, consumers can have the chicken and other poultry products without any fear as such products in the market are free from the avian flu," said the director.
"Earlier many farmers use to come to the department and its labs to check the virus but for few days no one has visited the centres for such checkups," Rajawar said, adding that the department itself is also monitoring the farms if the virus is really gone.
The department and its district offices have culled more than one million chickens and eggs counting more than that after the bird flu virus spread in capital city Kathmandu from its bordering districts. The government has also banned transport and sale of such fowls for a week and culled poultry declaring Kathmandu, Bhaktapur and other cities bird flu emergency zone.
Meanwhile, following the growing pressure from the poultry farmers to give them rightful compensation for the culled fowls, the department of livestock services on Sunday said that it provide them compensation according to the market price.
Poultry farmers have been demanding compensation for their culled fowls, compensation for the bank loans they took for poultry farming and assistance to re-run the business from the government.