News
Carnivores may prey on human if mega quake rocks Capital Kathmandu: Experts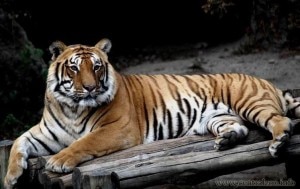 KATHMANDU, Nepal-Carnivores like tiger and leopards from the Central Zoo in Jawalakhel of Lalitpur could escape and roam the streets, preying on humans if mega quake rocked Capital Kathmandu and enclosure for zoos were destroyed, warned experts.
They have stressed the need to carry out simulation exercises among zoo officials and offering enough technical resources to cope with a mega earthquake and its wild consequences on zoo.
The central zoo located at Jawalakhel of Lalitpur district is sensitive to both humans and the animals, according to experts.
"Nobody has imagined about unpleasant scenario. So far our attempts have been centered on analyzing and working towards preparing communities on the situation of earthquake-related disaster and its  impacts on residential and public buildings as well as  human casualties," quoted Sunday's edition of Kantipur national daily as Amod Mani Dixit, executive director of the Nepal Society for Earthquake Technology as saying.
The society is a non-government organisation working actively on earthquake risk management for about two decades.
One of the walls encircling the zoo was destroyed in September 2011, when a 6.9 magnitude earthquake with its epicenter in Sikkim, India, rocked the Capital Kathmandu.
According to Sarita Gyawali, Director of  Central Zoo Director, the zoo administration has started working for the  facelift of compound walls, along with the installation of inner walls for carnivore enclosures, especially the big cats.
Currently, the zoo houses four tigers and three leopards besides other animals, birds and mammals . Gyawali said extenuating the risk of the escape of animals such as leopards, tigers, and a rhino is a major challenge in the.
During a meeting of the representatives from South Asian Zoos held in Kathmandu, two years ago, authorities had accelerated the discussion on emergency response protocols for climate change, emerging diseases and terrorism .