News
Glacial lake burst hoax left people panic; run away from home with belongings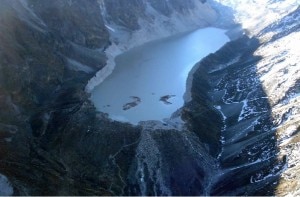 KATHMANDU, Nepal- Dolakha and Ramechaap district dwellers were panicked on Thursday night due to a wrong rumor of bursting of the Tsho Rolpa glacial lake in northern Gaurishankar VDC of Dolakha district situated east to Kathmandu.
With global warming and climate change, environment scientists say, many glacial lakes in Nepal including the Tsho Rolpa are in risk of burst. According to ICIMOD, around 200 glacial lakes in the Hindu Kush region have been identified as priority lakes, but the real risk of these lakes bursting their dams remains largely unknown and needs to be researched.
According to a report by national news agency RSS, people of the Tamakoshi river banks in Dolakha, Ramechhap and Sindhuli were panicked due to the rumour of bursting of the glacier and came out of homes. People of Manthali, the district headquarters of Ramechhap also ran away to safe places by reserving buses.
The police administration had returned the locals to their homes until 10:00 pm through public notice, the report said.
The alarm was created as the siren of the Khimti -1 hydropower project of Kirne in Dolakha was sounded after water level of Tamakoshi river had increased, it is learnt.
Meanwhile, the local administration has urged one and all to continue daily activities and not to panic saying there is no truth in the rumor of the bursting of the glacial lake.
CDO Prahlad Pokhrel said local security mechanism was on high alert and there was no sign or possibility of the bursting of the Tsho Rolpalake.
Floods and landslides with incessant rains have caused losses of hundreds of thousands of rupees in Bhirkot and Jafe VDC of Dolakha. Some houses were damaged and roads and electricity were disrupted.