News
Two new airlines to operate international flights from Nepal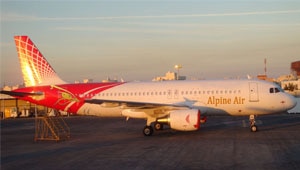 KATHMANDU, Nepal- Alpine Air and Net Airways, a UK-based company, have signed an agreement to operate international flights from Nepal. Both the airlines have signed the agreement to this effect on Friday, a company statement said.
Alpine Air announced its plan to being operation with an Airbus A320-200 aircraft with 12 business class and 150 economy class seats.
The aircraft has audiovisual system along with comfortable seats 36" pitch for business and 32" pitch for economy, the company has said.
It plans to add second aircraft within three months of being airborne.
The company said it plans to start direct flight to London after obtaining necessary permissions from the Ministry of Culture, Tourism and Civil Aviation once it brings the second aircraft.
Alpine Air has already received permission to operate flights to nine destinations — New Delhi, Mumbai, Dhaka, Bangkok, Kuala Lumpur, Guangzhou, Doha, Singapore and Bahrain.
Likewise, Net Air is a new airline business based in Kathmandu. Its parent company, Net Airways Ltd, is registered in England and Wales and headquartered in London.
Net Air will provide direct passenger and cargo flights initially between Nepal and the United Kingdom, followed by international regional routes from Nepal to the Middle East and South East Asia.
Currently there are no direct air services between Kathmandu and London with passengers having to make connections through either the Gulf or India or other Asian countries, which is both time consuming and inconvenient thanks to the difficult transit formalities.
While international traffic rights have been historically reserved for Nepal Airlines, the Civil Aviation Authority of Nepal (CAAN) is now looking to expand the Nepali aviation sector. As such it has invited operators to apply for new Air Operator's Certificates (AOCs) and route licenses in order to increase the range of services available to and from Nepal.
Last year five international airlines have cut their Nepal flights with three new airlines starting their Nepal flights. According to the ministry, there were altogether 32 international airlines flying to Nepal from various destinations around the globe but the number have down to 27 this year.