News
Illegal constructions posing threat to 4th busiest airport in Nepal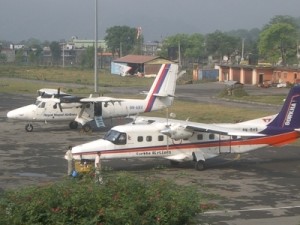 KATHMANDU, Nepal-With the construction of the building against the existing standard imposed by the government of Nepal, Bharatpur airport, located at  250 kilometer far south-west of  Capital Kathmandu is being insecure day by day.
Although there is a government  provision for not to erect any building higher than 10 feet tall buildings alongside the flight path and runway, such dozen illegal buildings have been erected rampantly ruling out existing rules and standard of the constructions enforced by Bharatpur Municipality in Chitwan district.
More over huge trees likely to touch the sky on the north face of the airport is more worsening.
Municipality provision has it that 10 fit tall houses should not be constructed close to airport premise, however, ignoring the existing standards, the municipality has given nod maps for the building posing threat to airports, according to pilots.
According to security guards deployed in the airport, they should get permission from the Ministry of Defense is required to cut down the trees, which are make the airport more risky.
However, Bharat Municipality has claimed that it is not approving illegal maps to construct the buildings, report from Chitwan district informed quoting planning officer of the district Bharat Kumar Acharya as saying.
The airport located 1 mile south west of Bharatpur is country's 4th busiest airport in Nepal. It is also the major tourist gateway to Chitwan National Park, one of the oldest National Parks of Nepal. The airport situated at an elevation of 600 feet above sea level.