News
Clean Everest campaign concludes collecting 780 kg garbage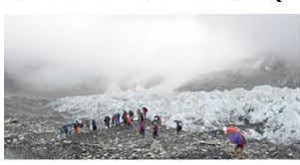 KATHMANDU, Nepal- A week-long clean Everest awareness and cleaning campaign launched in upper Khumbu region with a slogan "Our waste our responsibility, clean environment our mien" wrapped up on Wednesday. The campaign had collected as many as 780 kilograms of garbage from different locations in Khumbu.
The save Everest campaign has been launched to clean Everest, the highest peak in the world, collecting the litters thrown by mountaineers and tourists visiting the top of the world. According to Sagarmatha Pollution Control Committee (SPCC) which is one of the organizers of the campaign, in the campaign launched immediately after the end of tourism season, 190 kg of garbage has been collected from the Everest base camp while garbage weighing more than 200 kg has been collected from the Island Peak base camp.
More than 80 people from representatives from as many as 57 government, non-government organizations including schools, locals have participated the campaign launched jointly by SPCC and Eco-Himal Nepal, according to SPCC.
During the campaign Namche, Pangboche, Dingboche, Lobuche, ThuklaPass, Forche, Imja Lake area among other places of Khumbu valley were cleaned.
Speaking at the closing ceremony of the campaign, speakers have stressed on the need of similar campaign in the future days as well. "Speakers have laid stress on continuity of such cleaning campaign in more effective way," said a local Phurba Sherpa over phone.
For the sustainable management of the garbage in the Khumbu region, 40 garbage collection centers have been established in between Lukla to Dingboche with the financial cooperation of Eco-Himal Nepal.
An Italian research agency Evk2cnr, has also established an incinerator, a furnace for incinerating, especially to dispose of refuse, in Namche.