News
Budget fails to address tourism sectors, complain entrepreneurs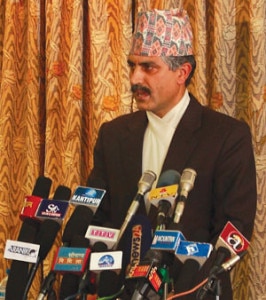 KATHMANDU, Nepal-The budget for fiscal year 2013-14 has failed to address the expectations of tourism entrepreneurs, people involved in the tourism industry complained.
According to them, the budget announced by the government of Nepal has failed to bring any special programmes to promote tourism in the international market.
"The government could have focused on the international market but it has not included any special programmes and packages to lure more foreign tourists ," said vice- president of Nepal Association of Tour and Travel Agents Madhusudan Acharya.
According to him, the tourism industry was expecting a special programme for International Himalayan Tourism promotion project but the government failed to announce such programme.
Business entrepreneur and tourism expert Hari Ratna Shakya said the budget failed to mention much more on infrastructure development programmes for the development of domestic tourism. However, Shakya was glad over the budget's concern on developing a regional airport.
For the renovation of heritage sites and museums to conserve historical and cultural heritage, the government has allocated Rs 430 million. The budget has also mentioned about the development of proper infrastructure for the promotion of Lomanthang of Mustang district and to enlist it in the World Heritage Site.
The budget has also allocated Rs 630 million to improve trekking trails and to develop eco-friendly regions. Meanwhile, it has also announced compulsory vacation for employees of public enterprises and class 'A' and 'B' financial institutions that are in profit. The programme has been announced with a motive to promote domestic tourism.
Focusing on the upcoming Constituent Assembly (CA) elections and hydropower sector, among others, the government on Sunday announced a full budget of Rs 517.24 billion for fiscal year 2013/14.
The new budget announced by Finance Minister Shankar Koirala gives continuity to most of the programs incorporated in the previous fiscal year's budget.
"The government's main priority is to successfully hold the CA polls and the government has allocated Rs 16 billion for it," said Koirala, adding that allocations have also been made for hydropower development, construction of roads and railways, irrigation, drinking water and tourism.