News
Airlines to implement CAAN rules on ticketing from July 16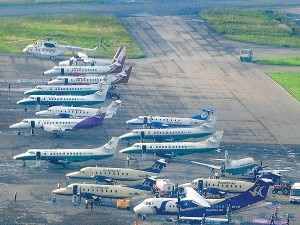 KATHMANDU, Nepal- Leading airlines in the domestic market through public advertisement have announced to include the airport tax, in ticket prices starting July 16.
The call refers to the recent decision of the Civil Aviation Authority of Nepal (CAAN) to make it mandatory for the domestic airlines to include airport tax in ticket as air passengers have to wait in a long queue to pay the tax also called as passenger service charge (PSC) at the airport counters before departure.
Following the decision of the CAAN major domestic airlines Buddha, Yeti, Tara and Simrik have called their agents and passengers to include the tax in the ticket price.
These four carriers fly 95 percent of the total domestic air travellers.
Airline operators said by including the tax in ticket prices, passenger queues will be shorter at the airport and will also reduce hassles. The airport tax on all domestic routes from Kathmandu is Rs 200 while this varies according to the city and location of the airport.
In the first phase, the new system will be introduced at the Kathmandu airport only and will be gradually expanded to airports across the country, according to airlines.
However, helicopter companies and single-engine aircraft operators have asked additional time to adjust to the new system. "As helicopters and single-engine companies do not have ticketing or e-ticketing system, they have problems making their systems compatible with the airport's system," said Ratish Chandra Lal Suman, director general of CAAN. "We are optimistic that all carriers will include the tax in airline ticket."
According to Suman, CAAN has decided to call them to discuss on how the system can be integrated.
According to Tribhuvan International Airport (TIA), 12 domestic airlines, including helicopters and single-engine aircraft companies, received 1.575 million passengers in 2012. The Nepali skies saw 70,877 flights in the review period. On an average, 195 planes took off and landed at TIA every day last year. There are 54 domestic airports in the country, out of which 34 run regularly.