News
Tourism sector excited, others worried with rising US$ values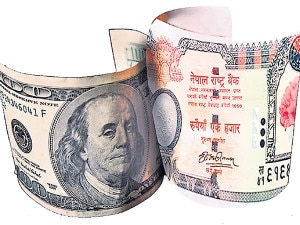 KATHMANDU, Nepal- Tourism sector that used to collect income in dollars and spent in Nepali Rupees are excited with American dollars gaining strength against the local currency, recent days. However, other sectors are worried with the situation as this would raise market price.
Though the continuous rise in selling rate of dollars has negative impact on import economy, tourism entrepreneurs are happy with the current situation.  Travel and tour operators use to collect royalty and trekking fees with the foreigners in dollars. With the dollars becoming dearer the sum they have collected will automatically bear fruit for them. However, some tourism entrepreneurs said the situation will have benefit at present but have negative impacts in future.
According to Trekking Agencies' Association of Nepal (TAAN), rise in dollars value have positive impacts on over all tourism sectors except some that related to imports of tourism goods.
"Though the rise in price in other daily uses like petroleum oil, market price have also affect the tourism sector, there is no any direct negative effect of the current situation in tourism sector,"  the umbrella organization of trekking operators in the country said.
Ang Tshering Sherpa, former president of Nepal Mountaineering Association, however, opined that the rise in dollar's rate will have both negative and positive effect in tourism sector. "The rise will have positive growth in income but the tourism based on imports will have to pay more to sustain their business," said Sherpa.
Sherpa said the high price of dollars will be fruitful for tourism sector with more foreign investments, rise in royalty among others. He, however, ascertained that the daily life would be dearer with the rise.
According to tourism experts, handicraft related tourism and other export related tourism business are the direct benefit achiever with the rising dollars' value.
The Nepali rupee has fallen its lowest against US dollar, with the Nepal Rastra Bank (NRB) setting the exchange rate at Rs 97.69 per dollar for Tuesday. The rate was RS. 95.71 per dollar for Wednesday.
The Nepali currency has been depreciating against the dollar for the last three months, with the rupee losing Rs 6.55 over the past month alone. The exchange rate on June 8 was Rs 91.14 a dollar.
The depreciation has been attributed to the recent downfall of the Indian currency with which the Nepali currency is pegged.