News
Former king celebrates 67th birthday amid gusto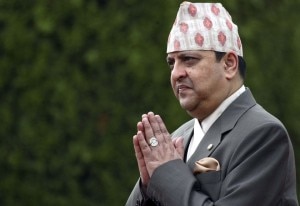 KATHMANDU, Nepal- Gyanendra Shah, the last monarch of Nepal celebrated his 67th birthday at his residence at Nirmal Niwas in central Kathmandu, amid huge mass of his supporters and well wishers on Sunday.
People from various walks of life were seen visiting and extending best wishes to him at his residence from early morning.
Nirmal Niwas at Maharajgunj, Kathmandu was open for the public from as early as 10 a.m. in the morning, as they offered garlands, vermillion tika and flowers to the former king.
Many administrators, politicians, leaders of Rastriya Prajatantra Party-Nepal (RPP-N) led by Kamal Thapa, businessmen, supporters and well wishers were there to get a glimpse of the ex-king.
Talking to journalists, Shah urged all political parties to quit 'prohibitory and conditional' politics and instead, bring the livelihood issues of the ordinary people to the front.
On election, he said there must be an environment under which all people can freely and fearlessly participate in the polls.
Individuals attending his birthday celebrations briefed the king about the situation of Nepal, saying that it is deteriorating day by day and that he needs to play an active role to rescue the country from the current mess.
They stressed that a ceremonial monarchy is still relevant to achieve sustainable peace and stability in Nepal.
The ousted king listened to them carefully, according to the witnesses.
After the country was declared republic by the first meeting of the constituent assembly, Shah along with his family members had left the Narayanhiti Royal Palace. The Palace now homes Narayanhiti Palace Museum and Passport Department while the ousted monarch live with his family at the Nagarjuna Palace located some 6 kms outskirts of central Kathmandu and Nirmal Niwas.