News
Nepal shrine offers special prayer for devastated Kedarnath temple in India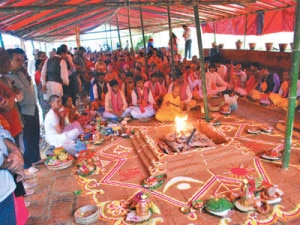 KATHMANDU, Nepal- A special prayer was performed in Doleswor Mahadev temple at Sipadol in Bhaktapur of Nepal to pay homage to thousands of Hindu pilgrims, both Indian and Nepali, who lost their lives in devastating floods and landslides in Kedarnath shrine located at the Indian state of Uttarakhand last month.
Scores of people died and over lakhs left stranded by flash floods and landslides after monsoon rains pounded the hill state on June 15.
Thousands of Nepalese pilgrims have visited the Kedarnath Peeth last month and around 100 are believed to have gone missing in the natural disaster.
According to the organizer of the special prayer, special worshipping has been organized to perform regular religious rituals or Nitya Puja, which was obstructed since the mid-June disaster in Kedarnath Peeth.
"After puja got disrupted due to floods, we got a call from Bhim Shankarling Shivacharya, the head priest of Kedarnath, to start the same rituals here," said Bharatmani Jangam, patron of Doleshwar temple told Nepal Mountain Focus page of Montagna.Tv..
The special worshipping was performed as per the rules followed by Kedarnath Peeth at the request of Jagad Guru Bhimashankar Shivacharya of the Peeth and it will continue in the days to come, Jungam said.
"We followed the exact procedures followed at Kedarnath while beginning Saturday's puja. The rituals will continue from now on," said Bacchu Ram Jangam, chief priest of Doleshwar Mahadev.
Hundreds of devotees have flocked to the Doleswor Mahadev Temple on Saturday, the first day and Sunday to pay homage to Lord Shiva.
There are many similarities between the Doleswar Mahadev temple of Bhaktapur and Kedarnath Peeth, claims Jungam. The Doleshwor Mahadev temple is thousands of years old and belongs to the same period in the history as that of Kedarnath Peeth, he said.
Legend has it that the Pandavas, on their way to Kedarnath, pulled the tail of a bull — a shape Lord Shiva had taken to prevent their journey — and as a result, its head got separated and couldn't be found.
The body of the bull is worshipped at Kedarnath. But four years ago, Shivacharya on a visit to Nepal, declared that the head of the bull was the idol worshipped at Doleshwar.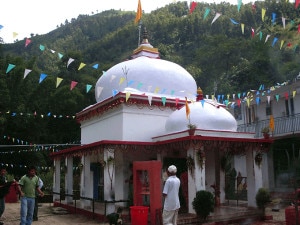 Since both the temples followed the same rituals, he declared Doleshwar shrine as the head of the sacred temple in India.
Holy lights were lit and special Yagya was performed at the temple as part of the age-old religious traditions, according to the organizers.
Speaking on the occasion, Krishna Hari Banskota, Secretary at the Prime Minister's Office, said that the government has recently allocated Rs 380 million for a five-year renovation and construction project.
There will be an open zoo in the area and the river, the hill and the surrounding natural environment will be protected under the project, he said.