News
TAAN completes exploration of Jaljala trail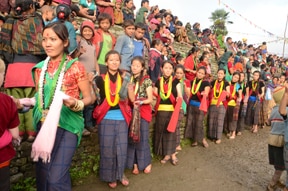 KATHMANDU, Nepal-A joint team of Trekking Agencies' Association of Nepal (TAAN) and Jaljala Tourism Development Committee, Rolpa has completed exploration of Jaljala area in Rolpa district.
The Jaljala region is rich in natural beauty. The region is home to different species of flora and fauna including the endangered Red Panda.
According to TAAN, the team has explored and recommended 10-day trek that starts from Sulichaur of Rolpa. Regular bus service to Sulichaur is available from Kathmandu.
The trek then passes through Fuliban, Uwabesi, Kotal Baraha, Pusbang, Righa, Ajambari Commune, Thabang and Bhedikharka before reaching Jaljala. There are three temples of Baraha and a cave in Jaljala. The trail also offers magnificent views of Sisne Himal, Gurja Himal, Putha Himal and Dhaulagiri, among others.
From Jaljala, the trail progresses through Dharampani, Majhbang and Jelbang before concluding at Sulichaur.
Prakash Khadka of TAAN, who led the exploration trek, said culture and lifestyle of Magar and wildlife are the major attractions of the trek. "Also Jaljala can be developed as a trekking hub of the region, as one can joint Guerrilla Trek, trek to Dhorpatan and enter the Dolpo region via Jaljala," Khadka added. "The region also holds great prospect for war tourism as the decade-long people's war originated in Rolpa."
The team also held interactions at Sulichaur, Thabang, Majhbang and Jelbang to discuss tourism prospects that the region offers. Local leaders of different political parties and tourism entrepreneurs among others participated in the interaction.
TAAN is preparing a documentary, detailed itinerary and map to promote the region.