News
I am uncertain about my life: widow of late Sona Sherpa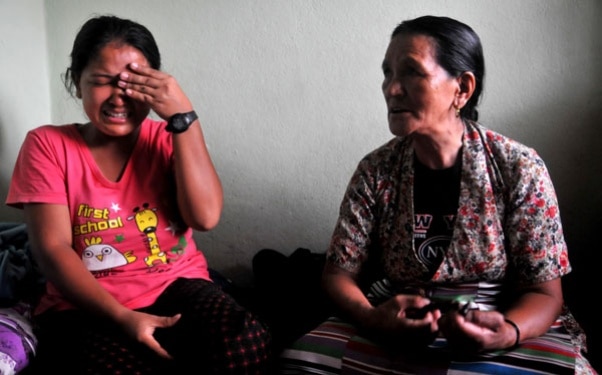 KATHMANDU, Nepal-The family members of Sona Sherpa was curious for the arrival of his return after scaling world's ninth tallest Peak Mt. Nanga Parbat. However, their dream to welcome Sona with garlands on his neck could not fulfill along with the news of tourist attack by Pakistani Taliwan at the base camp while Sherpa was among the ten foreign mountaineers who were slain in cold blooded attack.
Now the family members of the victim are waiting for the dead body of the Sherpa from Islamabad, capital town of Pakistan since his dream to return home after successfully scaling the peak was shattered. Sona had made contact with family members from the base camp of the Nanga Parbat on last Friday.
'I will return back to home after accomplishing the Nanga expedition' 70 years old Furkichi said quoting her son's statement. The gunman had shot dead to 10 foreigners including Sherpa.
28 years old Dolma Sherpa, widow of late Sona is worrying over the future of her two sons. 'I am uncertain about my life. Two kids are too small. How can I offer education to them?' she complained rolling the tears from her eyes. Dolma does not even believe the Nanga incident is real and she is mentally shattered after hearing the news.
Praying to God, bereaved mother Furchi Sherpa told, 'I have heard that my son has been killed by terrorists, however he was not the leader, but an honest mountaineer.'
Tshring Sherpa, brother of late Sona Sherpa said his brother was very meek and helpful, that was one of the causes for his death. 'There is no reason for killing my brother,' Tshering who is also involved in trekking occupation complained.
Sona had gone to Naga Prabat on Jestha 28 at the request of  a team of Chinese climber who had successfully scaled the Mt. Everest. 'I did not get an opportunity to talk with brother over phone from India,' quoted Nepalese newspaper Nagrik news as Tshering's statement.
Sona have successfully scaled the Mt. Everest three times, have summit the Mt Makalu and Nanga Parbat in 2009.
According to Mingma Sherpa, the managing director of Seven Summit Trekking, Sona's team had planned to scale the 8,126 meter peak on Saturday.
In the meantime Nepalese ambassador to Pakistan Bharat Raj Paudel informed the body of late Sherpa would be brought back to Kathmandu within Monday noon. 'We are busy for the administrative work with the co-operation of Home Ministry in Islamabad to bring back his body', Paudel told.