News
Shelter homes to provide cheap stay for porters in trekking routes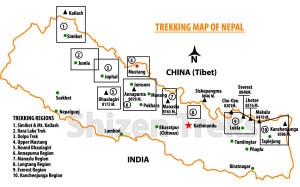 KATHMANDU, Nepal- Porters can now onwards stay in the tourists areas for only rupees 10 while they are in their jobs of porter. The low cost stay has been possible since the coming tourist season after works on building the shelter homes for tourism workers take pace.
The work has been initiated by the joint initiative of Nepal Tourism Board (NTB) and TAAN, the Trekking Agencies' Association of Nepal. Both NTB and TAAN have agreed to spend eight million rupees collected from tourists in trekking through Tourist Information Management System (TIMS) Card, to build the shelter homes. The tourism agencies have already agreed to build such shelter homes targeting porters in all trekking routes in the country.
The project is expected to facilitate many porters and other tourist helpers on trekking who are paying as high costs as tourists in the peak tourist seasons.
In the initial phase three shelter homes will be build, two in Everest region and one in Taplejung, according to Mahendra singh Thapa, president of TAAN. "The concept of shelter house is very beneficial as this will help the porters to save money which eventually minimize conflict between the management and the porters," Thapa said, adding that the shelter house is planning to accommodate the porters for Rs. 10 and "also they will be provided foods on nominal prices".
The porters are paying more than Rs. 200 only for lodge in the trekking routes. "Since it is necessary for the benefit of the workers such shelter homes are necessary but we are building only three of them for now as only eight million rupees have been provided from the TIMS Card fund," Thapa added.
The Ministry of Culture, Tourism and Civil Aviation had earlier halted the project after the NTB, TAAN and workers' unions lock horns over the issue and also failed to formulate the real action plan including design, size, type and total costs for the buildings.
TAAN is working to establish two 80 and 40 bed shelter homes in Everest region which will function as a mess to the travel workers. According to TAAN in has also selected land for it. TAAN has estimated 115 thousand rupees for the construction of the shelter homes, in which according to Thapa will have 25 percent share of District Development Committee and the Alpine Club.