News
Army happy with Everest clean up expedition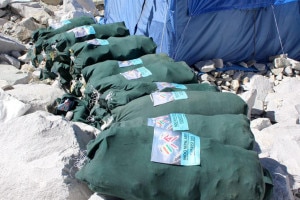 KATHMANDU, Nepal- Army personnels of Nepali and Indian army have recently joined in an expedition to clean garbage from trails and base camps on the slopes of Mount Everest.
The 25-member Joint Nepal-Indo Everest Expedition & Cleanup Campaign 2013 that comprise 13 from Nepal Army and 12 from the Indian Army was organized on the occasion of diamond jubilee celebration of first human ascent to the world's highest peak, Mount Everst.
Both the teams have taken this opportunity as a great moment as the mission is concerned to the world's issue that the Everest is losing its pristine beauty due to unmanaged litters and human waste.
Launched April 9th, the joint army expedition reached the summit on May 19th, according to Nepal Army (NA) officials, and collected 4,010kg of garbage along the way.
"The joint expedition was organized to further enhance the cordial relations between the armies of our two countries," informed the Nepal Army spokesman Suresh Sharma.
"This was a joint initiative to collect the garbage strewn in the Mount Everest and keep it clean," Sharma said, adding that a total of 2,250kg of bio-degradable waste and 1,760kg of non bio-degradable waste were collected.
"This has become a milestone in mountaineering history as this is the first time both the armies undertook the expedition for a noble cause of cleaning Mount Everest," recalled Major Sunil Singh Rathor who led the Nepali team during expedition.
A flag-in ceremony for the expedition was held June 10th at Army Auditorium, Bhadrakali in Kathmandu.
Plastic and paper items were disposed of at Namche in the foothills of Mount Everest. Other items like debris, oxygen cylinders, metal cans, etc. were brought to Kathmandu for disposal.
The team also set up two incinerators at Namche and Syangboche and placed a total of 40 garbage receptors along the route from Lukla to the 5,350m base camp.
Since the 8,848m-meter peak was first climbed by Tenzing Norgay of Nepal and Sir Edmund Hillary of New Zealand, on May 29th, 1953, more than 4,500 people have climbed it. And the garbage and wastes left by the mountaineers during and after climbing is always a big concern and environmental issue.