News
Doubts on Nov 19 CA polls persist altho date announced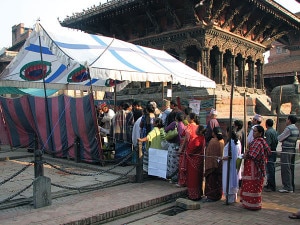 KATHMANDU, Nepal – Amidst the doubt whether the current would hold the elections for the Constituent Assembly, the government has announced Tuesday, November 19, 2013 as the day for the CA elections.
The meeting of the council of ministers has fixed the election date and has forwarded it to the president for approval. Office of the President has said the Head of State would take a call on the government-forwarded ordinance today. Once the president okay it the election will held on the date.
But, despite the poll date announcement, doubts persist in the political spectrum over chances of the elections being held on November 19, given the threat issued by poll-opposing parties to disrupt the poll process. The Mohan Baidya-led CPN-Maoist, the Federal Socialist Party Nepal and the Madhesi Janaadhikar Forum-Nepal are opposing the elections, demanding that the agreement to form the Regmi government be scrapped.
Issuing a press statement the government has, however, appealed to the dissenting parties to support the government in making the elections a success and thus end the current political deadlock.
"The government is committed to holding free, fair and credible elections," said the government in its statement.
The Election Commission has also said it is all prepared to hold the CA election s in November. "We are all prepared for the polls. We will move ahead by creating an election-friendly environment," EC Commissioner Ayodhee Prasad Yadav said in a television interview.
According to the EC around 11.7 million voters have already been registered, while the EC is verifying applications filed by political parties for registration. The EC has fixed July 15 as the cut-off date for the voter roll update. Citing the 2011 census, the EC has put the number of eligible voters at around 15.4 million.