News
NEA staffs cut power supply to ministers' residence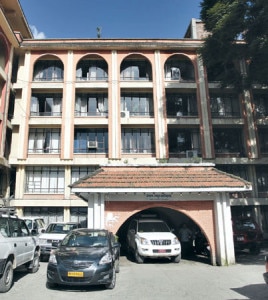 KATHMANDU, Nepal- The agitating employees of Nepal Electricity Authority, the sole power supplier in the country, have cut off the power supply to the ministers' residence for defying their plea to cancel controversial hydropower deal.
The NEA staffers and union, who are demanding that the decision to upgrade Upper Trishuli 3A Hydro-electric Project be revoked, have cut off power for two hours to the ministers' residence.  Energy Minister Uma Kant Jha also resides in the quarter.
They have said to cut the power supply daily from Sunday to Tuesday to ministers' quarters and also warned to increase the power cut hours if their demands were not met.
The agitating employees also staged a sit-in outside the ministers' quarters.
Employees unions have been protesting against the recent NEA decision to upgrade the capacity of Upper Trishuli 3 A Hydropower Project. The move will escalate the cost by Rs 4 billion and delay the construction by three more years.
The unions have turned down an invitation for talks by NEA Managing Director Rameshwor Yadav on Saturday, saying since he cannot revoke Trishuli 3A upgradation, there was no use talking to him. They say they would hold talks either with minister Jha or higher authorities who have the power to decide on the hydel project. The trade unions have also padlocked the MD and other NEA board members' offices in NEA central office.
MD, who has been camping at the office of Ministry of Energy for six days, wrote yesterday to all five trade unions, inviting them for talks scheduled for Saturday.
The five unions issued a joint press statement on Saturday announcing their protest programmes. The release also announced a four-hour daily blackout from 10:30 am on Sunday at NEA Central Office in Ratnapark. It calls all the NEA employees of the valley, except those posted at No Light and Emergency sections and NEA counter, to join the protest programme at NEA Ratnapark from 10:00 am to 2:00 pm on Sunday.