News
Miura creates history; becomes oldest person to summit world's roof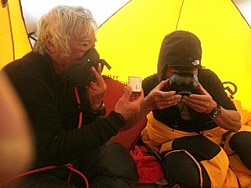 KATHMANDU, Nepal-An 80-year-old Japanese mountaineer on Thursday became the oldest man to step on the Everest. Veteran climber Yuichiro Miura reached the Everest at 9:05 a.m. local time, Thursday.  Gyanendra Shrestha, official at the Ministry of Culture, Tourism and Civil Aviation conformed that Miura reached the summit, making him the oldest person to do so, breaking the record held by Nepalese Min Bahadur Sherchan.
This is his third attempt of the highest peak in the world, the first being at the age of 70 in 2003. Miura had also conquered the Everest when he was 75.
"It is to challenge (my) own ultimate limit. It is to honor the great Mother Nature" Miura explained his attempt on his expedition's website.
The octogenarian climber had stayed around half an hour after making a history, report said adding he was feeling excessive thrill to break the record held by Sherchan,who accomplished the great achievement at age 76 in 2008, just a day before Miura scaled the summit.
However, Miura's new record may not last long again since the veteran octogenarian Sherchan is in Everest attempt this time as well. Sherchan, 81, will start the Everest expedition beginning Thursday noon as he is waiting to get government's nod at the Everest Base Camp since a week.
Also an ex-soldier, Sherchan wished to scale the peak last year; however, he had to quit his attempts as he failed to get required support from the government of Nepal.
Miura's conquer on Everest bears great significance in mountaineering sectors at the time when passionate mountaineer Sherchan is again competing to break his previous record.