News
I am glad to encourage women: Moharrak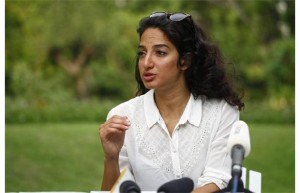 KATHMANDU, Nepal-Raha Moharrak, the first Arab woman who created a history by scaling the Mt. Everest from Arab region is now in Kathmandu to share her courageous Everest expeditions. Moharrak, 25, stepped on the peak last Saturday in a bid to raise one million dollar for various education projects in Nepal through her society 'Reach Out to Asia'. Moharrak's  Everest expedition team  comprises of three other gulf mountaineers affiliated to 'Arab with Altitude' from the Middle East.
'I am happier to encourage other women rather than to scale the world's highest peak Mt. Everest,' Moharrak, 25, who is also a graphic designer by the profession, told the media in Kathmandu, Tuesday afternoon. 'It was really difficult task to convince my family for my endeavor to atop the Everest, however, eventually they yielded to me,' Moharrak who came from narrow minded traditional Saudi family, where women rights are often restricted, told boastfully.
She is part of a four member expedition that includes Mohammed Al Thani, a member of Qatar's royal family; Raed Zidan, a Palestinian businessman and an Iranian national Masoud Mohammad.
According to Jeevan Ghimire, the manager of Shangrila Treks and Expedition in Kathmandu, the primary goal of their expedition is to raise 1 million dollar through their society 'Rich Out to Asia' (ROTA)for the education projects in Nepal. 'Our main aim is to raise helping hand for education in Nepal, however, it is yet to materialize our dream  since we are in initial phase,' Ghimire told.
According to Ghimire, the society is working for the welfare of the school environment in Nepal. Moharrak, also a university graduate currently based in Dubai, had visited Nepal for mountaineering training few months ago.