News
Minister wants expanded air service for tourism development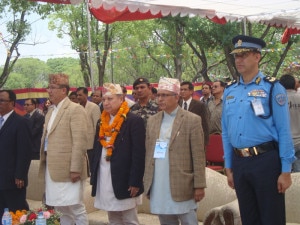 KATHMANDU, Nepal- Minister for Culture, Tourism and Civil Aviation Ram Prasad Shrestha has said that the development of tourism sector largely depends on the expansion of air services in the country. Since Nepal is a mountainous country the developed air service is the only viable option for the development of tourism sector, said the Minister while speaking at a programme in Kathmandu, the Nepalese capital on Friday.
The nature has bestowed Nepal with endless natural beauties, but we failed to cash them, said the Minister while inaugurating the Fifth National Tourism Fair that kicked off at Bhrikutimandap in Kathmandu.
"Many of our neighbours have strengthen their national economy by cashing their natural beauties, but we haven't done much though we are very rich in terms of natural gift," Minister Shrestha said, adding that since the world now has changed to a global village, both domestic and international tourism have great significance in national building.
Stating that the lack of adequate national flag carrier is the main problem of Nepalese tourism sector, the Minister informed that the ministry has signed an agreement to buy two airplanes with a Chinese company and another deal for hiring two airplanes.
"We hope the increased flights will help to bring in more foreign tourists as well as mobilization of domestic tourists throughout the nation" the Minister said. He, however, advised the tourism entrepreneurs to expand their business throughout the country and not to be limited to the traditional spots.
The fair is being organised from May 10 to 12 with an objective of identifying tourism destinations and promoting internal tourism in Nepal.
The organizer Nepal Tourism Board informed Nepal Mountain Focus that the fair will be participated by different tourism related organisations as well as educational and training providing institutions.
Information will be provided about 13 home stay schemes operated in different parts of the country, tourism packages and new destinations in the fair.
More than 50 districts will participate in the fair where there will be stalls of different 19 organisations, 12 travel agencies, four tourism educational institutions, as well as food items of Muslim and Newar communities.
Cultural items will be performed and documentary of tourism destinations will also be screened in the fair.