News
(English) Science Ministry, ICIMOD signs MoU on Climate related issue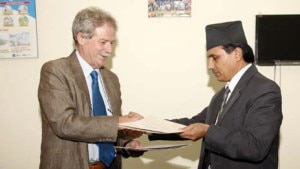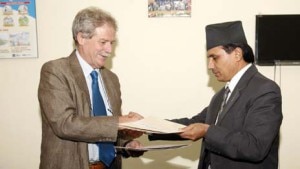 KATHMANDU, Nepal–Ministry of Science, Technology and Environment (MoSTE) and International Center for Integrated Mountain Development (ICIMOD) signed a Memorandum of Understanding (MoU), this week.
Dr Krishna Chandra Poudel, Secretary of MoSTE and Dr. David Molden, Director General of the ICIMOD signed a MoU for the collaboration between two institutions.
This collaboration will promote synergy between the two institutions for addressing the issues of climate change and adaptation in the HKH region.
The areas of focus include technical support and capacity development, knowledge development support, networking support, and planning and coordination. The MoU is valid for three years.
The Science Ministry is regarded as the focal ministry of the government of Nepal for environmental matters. It serves as the focal point for the UNFCCC, UNEPand other multilateral environmental agreements and organizations.
Kathmandu based ICIMODis a regional intergovernmental learning and knowledge sharing centre serving the eight regional member countries of the Hindu Kush Himalayas – Afghanistan, Bangladesh, Bhutan, China, India, Myanmar, Nepal, and Pakistan.
Much of ICIMOD's research focuses on the science of climate change and adaptation.