News
(English) Marital rape, a burning problem of Himalayan nation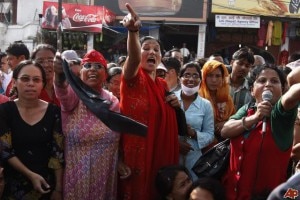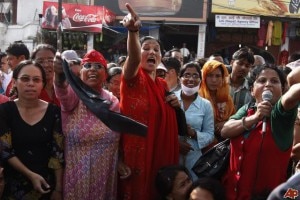 KATHMANDU, Nepal–She endlessly made numerous attempts to persuade her selfish hubby that she was not interested in having sleep with him. But he would not be convinced and used to force her having sex unmindful of her mood.
Rita Tamang (name changed) says that her husband would not care about her feelings, mood and sentiment and regards her as though she were a slave or commodity to be made just for exploit.
"My hubby claims it is the right of the husband to ask sex at any time he wishes from his wife ", the 22-year-old was quoted by a Nepali broadsheet daily. Tamang says her life has been a "living hell."
"I want to be born as man in my next life," she says.
She is one of the victims of marital rape, for which many Nepali women have even cost their life. Rita can't raise her voice in the society or file case against husband thinking that it would be shameful act for her. "How do I discuss bedroom matters with others?" she asks. Due to this stigma, she is forced to tolerate this injustice.
"What could I do to defy him, except surrender to him?" she complains with tear rolling from her cheeks. She
Another women hailing from Nepal's lowland terai in the southern region has the same doom fate similar to Rita.
Nadia Hassan (ghost name) was blessed with both gifts that every woman wants to have — beauty and talent. Born and brought up in a middle class in Muslim community, her parents decided to lend her hand to a guy who seemed gentle and civilized by appearance. But her trouble days started right after the day of her marriage ceremony while her husband exerted physical and sexual violence upon her.
She tolerated the barbaric behavior of her hubby during normal period, but, she was compelled to flee the house to avoid him. "I tolerated all this during normal period. But how long should I suffer his barbaric act? With whom should I go and share these things?" she was quoted by the daily further.
Minor quarrel used to erupt on regular basis and the couple was not in good terms. Fed up with all, eventually she decided to quit her husband's house. "I vacated the house a years ago and am staying at my parents' house in peaceful manner", she shared her experiences.
These are the two representative women who have faced rape after marriage. While it is accustomed for people to take to street to protest against a rape against child or girl, not a single married woman dares to raise her voice against marital rape even though many of them are suffering from such violence.
Marital rape has become a burning problem in the Himalayan nation, which campaigners against it pronounce as an upshot of the deep rooted male-dominated culture.
Though Supreme Court (SC) of Nepal has declared that marital sex without a wife's consent should be considered rape – and punishable by law, such practices are rampant across the country
A study carried out by the Centre for Research on Environment, Health and Population Activities (CREPHA) showed that 43 per cent Muslim women are victims of marital sexual violence followed by women of the Tharu community at 40 per cent, Tamang community 22 percent and Brahmin and Chhetri community at 20 per cent.