News
(English) Women mountaineers conquer Mt. K2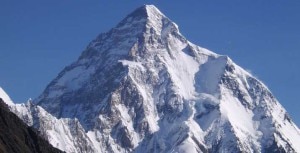 KATHMANDU, Nepal–Three Nepali women mountaineer successfully atop Mt K2, the world's second highest peak  in Pakistan, setting a new world record on Saturday afternoon.
Veteran mountaineers Maya Sherpa, Pasang Lhamu Sherpa and Dawa Yangzum Sherpa conquered Mount K2, also known as the mountain of mountains, at 3:35pm local time.
With a slogan 'women climbing for climate change' to raise the awareness on global warming around the world, the woman team had left for the peak three weeks ago.
"There is no word of joyfulness of an expression in the face of first Nepali women team as they successfully summitted K2 (8,611m), world's second highest mountain in Pakistan," a statement by First Nepali Women K2 Expedition–2014 read.
The team waived a Nepali flag after the conquer. This is the first successful expedition by a team of women on Mount K2.
Maya, team leader of the expedition, has more than a decade long mountaineering experiences and has already scaled Mt Everest two times. She started her climbing career as a national weight lifting competitor, a sport in which she reached the finals several times.
After completing basic and advanced climbing courses organized by the Nepalese Mountaineering Association, Maya started working as a climbing guide.
Other team members Dawa Yangzum and Pasang Lhamu are also professional climbers. Dawa was the first female to summit Everest from Rolwaling Beding. She has also completed the gruelling 350-kilometre Annapurna Mandala Trail.
Another team member Pasang Lhamu has also climbed Yala Peak, Nangpai Gusung, Ama Dablam, Mt Putta Hiunculi among other small peaks.
Pasang has alsoundertaken mountaineering courses in France, where she climbed numerous peaks. Pasang was the first Nepali women to climb Nangpai Gosum (7,321 m).
The expedition was organised by Himalayan Women Welfare Society in coordination with Office of the Prime Minister, Ministry of Environment, and Ministry of Tourism and Civil Aviation, Nepal Mountaineering Association and Trekking Agencies Association of Nepal, private sectors and other development agencies.
The Ministry of Science, Technology and Environment had organised a special function to bid farewell to the 'First Nepali Women Expedition to K2 for Climate Change' on May 21 amidst a function in the Capital.
The estimated cost for the expedition was around eight million rupees and sponsored by ICIMOD, Nepal Mountaineering Association, Trekking Agencies' Association of Nepal and many other tourism-related organisations.