News
Career goal to be a civil engineer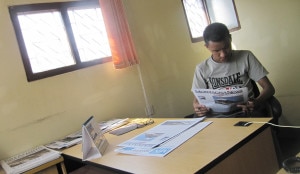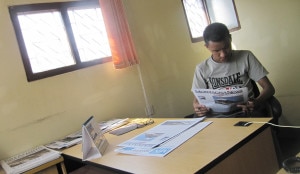 KATHMANDU, Nepal – He seems quite serious as if he were a philosopher. He cannot stop throwing a glance over any new things (book or newspapers) whenever he finds on table and his curious mind forces him to ask a charter of questions like an explorer. "How many research works have been carried out by Ev-K2-CNR so far…To what extent did the Pyramid Laboratory Observatory succeeded in mountaineering research?"
As a matter of fact, he posed himself as a curious asker instead of an answer man. "When will President Agostino Da Polenza arrive in Nepal? Will you manage a brief period to meet him during his Nepal trip…Really I am eager to see him…" He went on to ask me several queries till a telephone ring interrupted him, during his recent visit at the Ev-K2-CNR Headquarter in Kathmandu.
He had seemed a little nervous, coupled with a feeling of fear and uncertainty during my first trip to Little Angles (LA) in Hattiban, Lalitpur, two months ago. His visit to the office was a part of promise he made me during our brief discussion at LA.
Adopted by Benoit Chamoux Foundation, a charitable organization set up to help raise fund for the children of falling Sherpa mountaineer during their attempts in Himalayan Peak in memory of veteran French mountaineer Benoit Chamoux, Nima Tenzi Sherpa is a very curious person by nature.
Nima is also one of the genius and most talented students who has made outstanding achievements in study. Like his other orphan comrades, he was enrolled in grade three at HIMS, though he had already passed that class from his native village Kerung-4 in Solukhumbu district.
The Sherpa kid even could not speak Nepali language then. "Since I was grown up in the village, I was not accustomed to speak other than my ethnic Sherpa languages," Nima narrated his past experience, "I was really felling sad to be enrolled at the same class which I passed securing good marks." However, he repeated the same class regardless of the fact he was reluctance to rejoin.
Nevertheless, his performance in the class was excellent, and passed the each terminal examination with flying colors till class nine.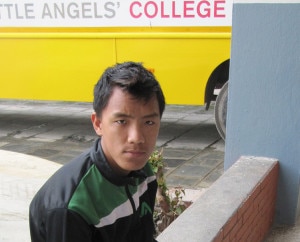 Since that time, he realized that there was vast difference between village and urban learning. With a pretty opportunity to learn in the capital Kathmandu, he also understood for the first time that his village, where, he was compelled to walk hours every day just to reach school was in dire need of physical infrastructures like colleges, roads and electricity.
"There was neither the facility of the hostel nor any means of transportation service in our village", Nima who at present enjoying his hostel life with his friends, says.
He often had difficulty in understanding lessons at schools as he felt tired after walking the distance.
"There is an alarming difference between village and urban school", Nima who sincerely went to LA until he appeared his SLC says.
His learning capacity proven to be an outstanding among all-round student as the SLC result put him at the top of his class securing 80 per cent in 2011
Nima who has just completed his 12 grade examination from LA securing 69 percent in the board examination of 11 and hopes to garner 75 percent in aggregate, wants to pursue his carrier in engineer.
He is currently utilizing his leisure period in tuition class for the BE entrance at an institute in the capital Kathmandu. "I want a degree in civil engineer", he says, "I have made consultation with the Himalayan Trust for the required fees to be paid for the entrance preparation."
Seeing him as an extra ordinary student, Pasang Sherpa of Himalayan Trust had put forth him an option to seek a carrier in engineering.
"Nima is one of the brilliant students adopted by the foundation who also topped in SLC securing 88 per cent", Pasang proudly tells.  A teacher at HIMS also said, "Nima could learn and remember words as quickly as a toddler."
In fact he has strong desire to study engineering in neighboring India if any kindhearted person is ready to afford his fees. He frequently gives a snob and questions over the quality of education being offered by the colleges in Nepal. "It would be better if the foundation gave an opportunity for abroad study. I am totally dissatisfied with teaching system in Nepal,"
He is confident to pass the entrance exam to be held after two months. But, what shall he do if he doesn't pass the entrance for engineering? "There are charters of options in our life. I wouldn't be frustrated if I get failed", a more optimistic Nima tells with determined tone.
Nima who claims himself as the only child of deceased mountaineer to be supported by the foundation in lower Solukhumbu, frequently expressed his desires to meet the president of the foundation Agostino Da Polenza.
He still remembers that a cheerful man accompanied with a magnetic lady and Pasang Sherpa had gone to HIMS, a few years ago. During the visit, the man with his loving hand had touched the orphan children of mountaineer with affectionately.
During a picnic programme organized by Benoit Chamoux Foundation in January, Kathmandu Nima could not be seen in the "annual event" where his friends and guardian enjoy much, sharing their feeling with Clauss. "Since I was in neighboring India for education tour from the college I had to miss huge gathering," he says. In fact, Agostino and Fabienne had nodded him positively for his educational trip.
Nima is really grateful to incumbent president Agostino Da Polenza and founder Fabienne for their kind support for the orphan children of fallen mountaineer like him. Thus, he would never forget in his life how hard they have contributed for him.
"I commit that I would support the foundation and its members after turning into a decent man", Nima who attributes his success to foundation tights his fist with great determination, and said "I would like to help the foundation and to be a vital component of it in the days to come."