Alpinismo
Alta quota
(English) K2 Base Camp: the highest meteorological climate monitoring station in Baltoro area has been successfully installed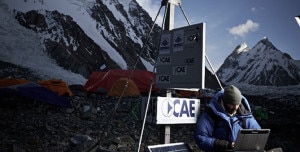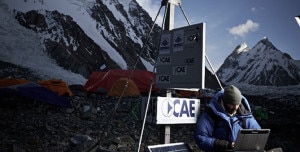 K2 BASE CAMP, Pakistan — It is the highest meteo station ever installed in Karakorum that belong to the integrated SHARE project funded by EvK2CNR comprising an international climate and atmospheric monitoring network, researches in environmental and geophysical sciences and new technology development for monitoring activity in high mountain regions.
In the last 24 hours the temperature at K2 Base camp fluctuated between  -1° minimum and 6.9  maximum; wind flow at 13 Km/h. It is relatively hot at K2 base camp, wind is strong and the relative humidity low: 27% minimum 75% maximum. These are the first data received in real time from K2.The station has been installed at 4970 m a.s.l. directly on the glacier  near the tents where the members of K2 60 years later Expedition are planning the attack at K2 Summit. The first scientific challenge of the Expedition has been accomplished: the raw real time data are now available on EvK2CNR website at this link: K2 Realtime data.  http://evk2cnr.org/K2-60th/RealTimeSensorDisplay.php
The station has been designed and provided by Cae – Italian leader in the multi-hazard monitoring and early warning   – and it has been  produced with a modular structure which can be disassembled into parts in order to simplify the difficult transportation during the long trekking on the Baltoro Glacier. The station has been provided with four sensors: anemometer, thermoigrometer, barometer, albedometer- measuring  wind speed and direction, temperature, humidity, snow level and solar irradiation and it is able  to transmit the data automatically and in real time to the researchers.
"To transport the station on Baltoro Glacier has not been easy, even if we used animals – Marcello Alborghetti, EvK2CNR researcher and technician says – We work hard and quickly with Madi, our Pakistani technician, to install the station and to calibrate all the sensors. The most difficult and complex aspect was the communication system and  the real time data connection".  The Pakistani and Italians at K2 base camp, coordinated by Marcello Alborghetti and Madi, worked together to reach this important scientific goal.
"This meteorological  station at K2 Base Camp is the fourth Share station located on the Baltoro area – Elisa Vuillermoz, EvK2CNR scientific coordinator, says. – The data that will be provided by this new station will increase all climatic data and information that we have about Central Karakorum area. The monitoring of this peculiar area it is also important for the comprehension of the Karakorum anomaly phenomena that highlights a stability or small raise of the glaciers, on the contrary of the phenomena registered in the Himalayan region, where glaciers are regressing.
The station will send real time data during all the duration of the K2 60 years later Expedition that is going on. All the 9 members of the Expedition team reached camp 1, and actually the two Italian mountaineers Michele Cucchi and Simone Origone with four Pakistani are trying to reach camp2 in spite of the bad  weather conditions.