News
(English) Chinese climber admits of using chopper to scale Everest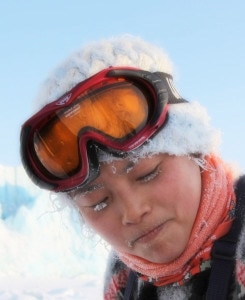 KATHMANDU, Nepal–A Chinese climber who earlier claimed to have atop Mount Everest has eventually admitted that she had used a chopper to avoid risks there.
Wang Jing, 40, an entrepreneur of China based outdoor clothing and Gear Company confessed to a week of accusations by various walks of life that she in fact applied a chopper while ascending the highest peak in the world.
Fishtail Air's Captain Maurizio Folini had already admitted that he had flown a four-seater Bell 206B III Jet Ranger chopper to carry Wang above the Camp II from the Base Camp on May 10.
Wang who was under pressure to summit Everest as part of her bigger aim of scaling the seven summits in a six-month period told Xinhua that she opted for a helicopter to fly from the base camp at 5,300m in altitude to Camp II at 6,400m since the route was damaged by an April 18 avalanche, that swept away 16 Sherpa guides and support staff.
She had drawn criticism of using a copter to go to climb II to avoid the risky icefall route where the ropes were yet to be fixed following dreadful ever avalanche in Everest region.
"The Sherpas have great mental pressure and they were reluctant to step into that place," Wang was quoted as saying while explaining the decision to take a helicopter.
Just five days ago, Civil Aviation Authority of Nepal (CAAN), the lone aviation regulatory body in the country formed a probe panel to study whether or not Wang used chopper above the Everest camp II, this season.
"I knew our decision could discount the climbing efforts. However, I would like to accept the losses for the sake of safety," Wang further said.
According to Tourism Ministry, Wang was the first climber to go up from the Nepalese side since the Everest tragedy had forced hundreds of climbers to quit their mountaineering bids. The Everest has been unofficially closed after the incident.
Earlier on May 23, Wang had claimed on her microblog that she anyway managed to conquer the peak from the Nepalese side at about 6:30pm after "experiencing tens of thousands of hardships". However, she did not mention the chopper issue in the microblog.
The microblog was clicked for more than 2,000 times and drew 1,300 more comments as of Saturday afternoon, with most microbloggers criticizing her for hiding the fact she had taken a helicopter.
"If you have enough money, you could even reach the moon," a citizen commented.
Normally choppers are not allowed above the Base Camp except for emergency cases and permitted flights to carry load.