News
(English) Is TIA turning into a "hassle spot" for foreign tourists?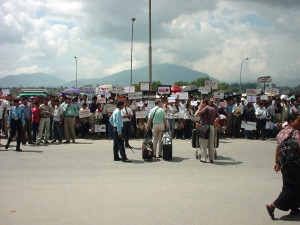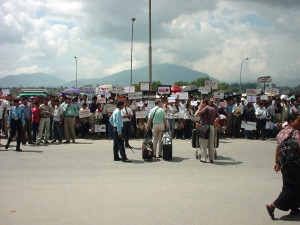 KATHMANDU, Nepal–Why are you going to Malaysia? How did you get a Malaysian Visa? An official at Immigration Division under TIA rudely asks a foreign tourist who was in a last phase to fly Malaya.
Any first-timer at TIA might be shocked to see the rude behavior in which the immigration officials treat the tourists and migrant workers. Going through the travelers' experiences share about Nepal's only international airport, the government does not seem to be doing well to leave good impressions to foreign tourists visiting Nepal.
"During the course of our travels, we have forborne many euphoric moments… but there have been some nightmarish experiences as well. But the one that towers over them all is the one we experienced at Nepal's Tribhuvan International Airport. It is harrowing enough to make us never want to visit that country ever again", Joseph Ellis writes about the experience he had at Tribhuvan International Airport on his blog 'Travel and Beyond'.
The Singaporean complained that he and his spouse were misbehaved by TIA immigration officials who forced them to stay at the airport for hours to get clearance without any reason.
"This was harassment at its peak. We could have got into a big argument with these chaps but knew that it would only make matters worse. They clearly were looking for any excuse to detain us. Why? God knows and I wouldn't want to speculate here. As soon as the plane took off and we were no longer in Nepali air space, we breathed as sigh of relief", he adds on his blog.
Another foreign tourist has also written about bitter experiences at TIA. "Upon our arrival we had to queue for hours to get our tourist visas. The toilet was the worst I've encountered at any airport. The whole terminal needs complete refurbishment," wrote M Seymour of UK about TIA on an airport review website Skytrax.
Tourists visiting Nepal have also found country's only one international airport as disgusting places and complain there is nothing dignified for regular travelers.
"Without doubt, Kathmandu domestic airport is one of the disgusting places. Many who travel through this place on route to trekking or climbing adventures? There is a nothing dignified or organised about the place and for regular traveler it twists a knot in your stomach every time you pass through," a tourist goes on this vein about the experience he had at Tribhuvan International Airport.
Many travelers visiting Nepal have frequently complained about the impolite manners of the staffs that have spoiled Nepal's image in international arena.
Officials at TIA admitted that the office has received a charter of complaints from tourists against the TIA service.
TIA handles at least 40 international flights with more than 9,000 people arriving and departing on a daily basis. Passengers are often forced to wait in queues for hours to get immigration clearance and it is rare to see a welcoming smile on the faces of immigration and customs staff.
A senior official at TIA admitted that Tourists often complain about poor service at the TIA. "We received a charter of complains by mail regarding the behaviour of staffs and other management issues", he told to Nepalmountainfocus adding that the office has taken tourist's concern seriously.
TIA sources further said officials have been regularly monitoring and asking the deputed officials to behave politely to passenger. The airport has established seven desks to serve the foreigners and an online visa application system has also been introduced.