News
(English) Bring back garbage while descending Everest, mountaineers asked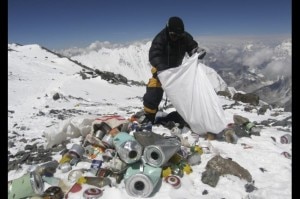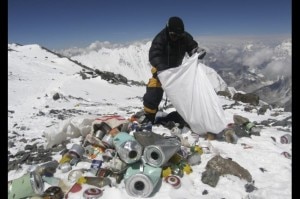 KATHMANDU, Nepal–A month after the reduction in fees for individual climbers to Everest and other Himalayan, the government on Monday asked the Everest climbers to bring back garbage along with them under rules designed to clean up the world's highest peak.
As per the rules the climbers should compulsorily submit at least 8 kilograms of destroyable or undestroyable garbage except for oxygen cylinders and human waste from above the Base Camp at the Contact Office of the Mount Everest Pollution Control Committee.
The decision was made after suggestions from discussion with stakeholders to make the garbage management effective of Mt. Everest and other high Himalayan areas, states the Ministry of Culture, Tourism and Civil Aviation.
In a statement the Ministry stated that the Committee will make arrangements to destroy the garbage which is destructible while the non-destructible ones will be managed properly in coordination of the Committee based at Namche and Kathmandu Metropolis in the presence of the Ministry.
The rule which will come into effect from next month apparently comes as a move to clean up the world's tallest peak.
Environmentalists have lauded the government's move saying the decision will help preserve Himalayan echo system.
Officials at the Ministry warned that if the climbers don't bring back garbage, they will take legal action and penalize climbers.
In the meantime, the government is planning to implement the rule in other Himalayan peaks as well from next year if the current one in Everest proves to be a success.
Two weeks ago, the government had decided to establish security camp at the base camp to give psychological feeling to the climbers that they are safe on the top of the Everest.
Everest is a key revenue earner for the Himalayan nation with hundreds scaling the mountain every year during the peak climbing season in April and May.