News
Workshop on marketing 'Modern Tourism Destination' organized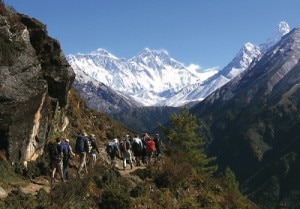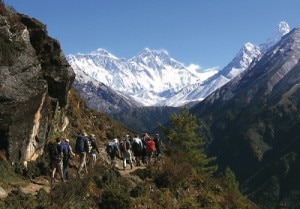 KATHMANDU, Nepal – PATA (Pacific Asia Travel Association) Nepal Chapter organized workshops on Modern Destination Marketing Management and Writing Winning Proposals in the capital on Thursday. Simultaneously, it launched PATA Students' Chapter Nepal and Friends of PATA Media Pool.
"It is not the Hotels, Restaurants, and Transportations that tourists travel for from one place to another. It is also not because of the expensive or cheap destinations that add as a reason to travel. It is but Magic Moments that travelers travel from one place to another. That is what the travelers' basic expectation is when they are actually travelling!" Bert van Walbeek, who conducted the four-day long workshops, said.
Walbeek is a hotelier for 45 years, marketer of tourism for 35 years, motivator and a Master of Disaster and Crisis Management since 25 years and a lecturer for 15 years. He is well known as Dr. MICE because of his legendry applications of MICE (Meetings, Incentives, Conference and Events) Tourism that shot him to fame in the industry.
Some 205 participants from tourism Industry that includes hotels, travel Agents, various tour operators, and the media fraternity and business institutions actively participated in the workshop that was set in motion by Subash Niroula, CEO of Nepal Tourism Board at Nepal Academy of Tourism and Hotel Management (NATHM), Rabi Bhawan on January 13.
Similarly, PATA Nepal Chapter has also initiated PATA Students Chapter Nepal which includes 30 bright students from 6 different colleges — namely Public Youth Campus, Nepal Academy of Tourism and Hotel Management (NATHM), Kathmandu Academy of Tourism & Hospitality (KATH), Nepal College of Travel & Tourism Management (NCTTM), Silver Mountain School of Hotel Management, and Global Academy of Tourism & Hospitality Education (GATE).
Suman Pandey, the Chairman of PATA Nepal Chapter, in his opening speech stated that these students are the future leaders of the Tourism and Hospitality in Nepal. He stated that PATA Nepal Chapter's motive behind launching the Students' Chapter is to provide an international exposure to the aspiring students and to encourage them for the leadership as a Generation Next program. Pandey also highlighted PATA Nepal Chapter's role since its inception in 1975 to build business, brand, network, people and insights for the 105 members from the tourism industry. Pandey thanked the contributors Nepal Tourism Board, Nepal Airlines Corporation, Trekking Agents Association of Nepal, different media houses, PATA Team and NATHM Students for making this event successful and welcomed all the students and the participants.
Subash Niraula, CEO – Nepal Tourism Board, too presented his views on the occasion. He stated that he being a student of leadership management himself, he sees the need of more potent leaders in the industry. Furthermore, he stated that Nepal Tourism Board too is going through a revamp process at the moment and is restructuring and re-empowering each department at Nepal Tourism board for better and effective work process.
Ramesh Dhamala, President – TAAN stated that it was a pleasure to be a member of the synergy force between PATA, Nepal Tourism Board, Nepal Airlines Corporation. He further stated that TAAN shall always look forward to working closely in terms of strengthening and developing Tourism Industry.
"Friends of Pata Media Pool" was launched on the opening day of the second workshop- Writing Winning Proposals. Suman Pandey offered the pins of membership and Khada to 30 members from different media houses.