News
Dozens domestic flights cancelled as smog blankets country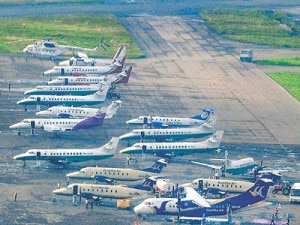 KATHMANDU, Nepal– Due to dense fog and windy weather condition nearly four dozen flights were delayed and cancelled on Wednesday across the nation. Scores of passengers who were planning to celebrate Christmas were affected much due to the cancellations.
Officials at Tribhuvan International Airport (TIA) in Kathmandu informed at least 45 flights were cancelled from Kathmandu's and almost all flights were delayed for more than an hour.
Buddha Air was forced to cancel more than a dozen flights including some Mountain View flights on Wednesday. Though the Kathmandu airport had fair visibility, it was worse in Pokhara, Bhadrapur, Tumlingtar, Simara, Dhangadhi and Lukla among other cities.
Likewise, most of the flights to and from Lukla and Kathmandu were cancelled as ground visibility in was deteriorating in the afternoon. Normally flights are operated when ground visibility is 5,000 metres at most airports, though the planes can take off and land during 2,500-metre visibility by applying special visual flights rules.
Simrik Airlines cancelled four flights from Kathmandu to Lukla citing windy weather conditions while dense fog affected another four flights to Pokhara.
Officials at TIA said planes have been unable to land at Lukla, the gateway to Everest, for the last three days.
The period between December to January is most painful time for domestic airlines as they are forced to make frequent delays and cancellations that resulted in a loss of millions of rupees. This is the time when foreign trekkers return back from trekking and observe Christmas and New Year. However, due to cancellations in flights their trip and time scheduled have been adversely affected.
Operators said that last winter was the most unfortunate for domestic airline companies in Nepal as they had to cancel around 40 percent of their flights.