News
'Protection of heritage a great challenge'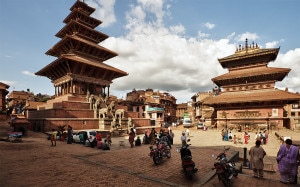 KATHMANDU, Nepal – Experts and the concerned have found it really challenging to preserve the heritage as the traffickers eye such heritage for money.
The views were expressed during a two-daylong international symposium entitled, "Protecting Asia's heritage, strategies for fighting illicit traffic of cultural property and fostering restitutions" that kicked off here on Tuesday.
In the symposium jointly organized by UNESCO and Ministry of Culture, Tourism and Civil Aviation, Minister of Culture, Tourism and Civil Aviation Ram Kumar Shrestha said that the problem of illicit trafficking of cultural properties is a greater threat for Nepal as well as to other nations.
"The symposium will support to find out the way to fight against the illicit trafficking of cultural heritage," he said.
"It will address a great variety of issues like challenges to establish a tracking system to identify and locate cultural property in a systematic way, limited technical capacity to keep and safeguard the restituted objects and the lack of public awareness on the dispersal of cultural objects by illicit traffic," said Axel Plathe, head of the UNESCO office in Kathmandu.
The loss, damage and theft of cultural property are attracting significant political, media, diplomatic and legal attention globally. Illicit traffic of statues, manuscripts and other items that are essential elements of a country's cultural property in South Asia continues as the region lacks effective policy and capacity to curtail illicit trade.
Presenting a paper entitled "National policies and legal framework in Nepal", Bharat Mani Subedi, joint secretary of Ministry of Cultural, Tourism and Civil Aviation said that even the rich in cultural heritage properties are disappearing due to lack of property inventory system and maintenance of detail records.
He clarified the future strategies of how to preservation out cultural properties.
The symposium has expected  to exchange knowledge on the state of illicit trafficking of cultural property in South Asia, on the statues of the implementation of international legal frameworks and on best practices covering both preventive measures and restitution process.
Further, it intends to make recommendations on the best use of international legal tools and frameworks and customary laws and provisions, on strategies for the return of cultural property and on the long term planning for the restated objects.
About 100 experts working in cultural sector, museums, libraries, archives and the art markets as well as twenty international speakers from Afghanistan, Bhutan, Bangladesh, India, Maldives, Nepal, Pakistan and Sri Lanka have been participating in the symposium. They also include experts from UNESCO headquarter in Paris, Interpol, the World Customs Organization, UNIDROIT, ICOM, UNODC and other regional organizations.