News
Nepal lover German national promoting Nepalese culture, tourism in his land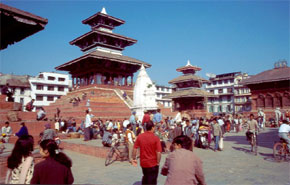 KATHMANDU, Nepal – A German national who was impressed by the typical Nepalese culture thirteen years ago, has been working to promote the culture and tourism in the country on his own initiatives since then.
Banker turned businessman Heribert Wirth who had a chance to visit Nepal pavilion erected at an expo in the German city of Hanover in 2001, was so impressed with the artifacts used in the pavilion that he came with an idea to preserve them.
After the expo ended, he carried all the artifacts used in the pavilion and established a beautiful park at Wiesent.
Wirth since then has been promoting the Nepalese culture and tourism by establishing Nepal Himalaya Pavilion on a small hilltop near Wiesent – 140 km away from Munich.
Wirth, who was in Kathmandu last week to celebrate his 75th birthday, said the park is visited by around 70,000 people ever year.
"The amount collect form visitors is used for social works in Nepal through an organization named Water for World," Wirth told the Republica daily, adding that most of the people visiting the park end up visiting Nepal.
Water for World has been implementing different projects on drinking water and health in different parts of Nepal.
Amrit Ratna Shakya, president of Implementing Expert Group which erected the Nepal Pavilion in 2001 was quoted by the daily as saying that Water for World has already spent 3.5 million Euros in different parts of the Nepal. It has also been providing assistance to Dhulikhel Community Hospital.
"I will continue to promote cultural tie-up between Nepal and Germany," Writh, who has been visiting Nepal every year to celebrate his birthday since 2001, said.