News
Govt felicitates cricketers with million rupees; better plans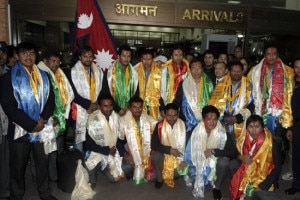 KATHMANDU, Nepal – For their historical achievement in the ICC Twenty20 World Cup Qualifiers the government has decided to felicitate Nepali cricket players with a million rupees each. The government has also directed the Youth and Sports Ministry to submit a detail plans that it should do for the players for their best performance in the World Cup and for other similar titles.
According to the Spokesperson of the Cabinet, Minister for Communications, Madhav Prasad Poudel, the Ministry of Youth and Sports would be directed to present a plan before the government on the development of physical infrastructure to hold international cricket tournament and for the development of cricket in Nepal.
Stating that the players and the team have made the country proud and honoured with their performance, the meeting of the council of ministers on Monday approved the decision to reward all the 15 players of the team with a million each, the coach with Rs 500,000 and the management team with Rs 300,000.
National Sports Council (NSC) had earlier forwarded the proposal to felicitate the cricket team with cash prize.
Nepal qualified for the Twenty20 World Cup by defeating Hong Kong with five wickets last Wednesday in the qualifiers held in UAE. Nepal finished third in the tournament among the 16 nations, thrashing UAE by five wickets in the tournament on Saturday.
Soon after their selection in the ICC Twenty20 World Cup, various public and private organizations here have announced different cash awards to felicitate the players.
Nepali national team had arrived home on Sunday evening.