News
Future of Gautam Budhha Int'l Airport likely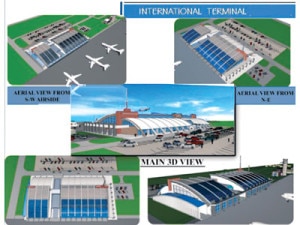 KATHMANDU, Nepal – Future of the long awaited Gautam Buddha Airport (GBA) seems bright as the Civil Aviation Authority of Nepal (CAAN) has opened tender for its upgradation as the regional international airport.
The airport that lies in Bhairahawa, a south-west city bordering India will soon get a facelift after the CAAN finalizes tenders and begin works, CAAN officials said.
The government body that regulates the aviation sector in the country has issued a public notice calling for the tender on Thursday. According to the CAAN, the tender notice is open till January 11.
The tender notice is open for the construction of airside and landside infrastructures and other facilities at GBA. Officials at the CAAN said that the upgradition of the GBA is in line with the government decision to built at least one international airport in each of the five development regions.
The government is working with the five year-long master plan and 10 year-long strategic working plan to boost up the number of tourist arrivals in the country and developing the country as the perfect tourist destination. Till date Nepal has Tribhuvan International Airport as the only international airport in the country.
Ratish Chandra Lal Suman, director general of the CAAN has informed the media that the CAAN in coordination with Asian Development Bank (ADB) had opened the tender for civil construction. As per the tender notice, the eligible bidders need to have a minimum annual turnover of US $53 million and have a minimum experience in two projects of similar nature of more than 10 years.
According to CAAN, bidders need to carry out works that include construction of new runway, exit and parallel taxiway with flexible pavements, new international aircraft parking apron with rigid pavements, drainage system parallel to runway, taxiway and diversion of the Ghaghara Khola along with airport boundary, internal and external periphery road, Airport Access Road, CFR Access Road, Fuel Farm Access Road, Cargo Access Road and security chain link fencing.
Likewise, the selected bidder also needs to carry out rehabilitation of the existing runway for conversion to parallel taxiway with flexible pavements, construction of new International Passenger Terminal Building, operation/control tower, administrative block, air cargo and maintenance building, Crash Fire Rescue Building and main sub-station building.
The bidder also needs to construct other ancillary buildings such as guard house, security posts and maintenance building and construct water supply, sewerage drainage system, install runway and taxiway lights, approach lights, Precision Approach Path Indicator (PAPI), apron flood lights and generators for power supply.
Though the first phase of construction of the three-year project was originally planned to start by the end of 2011, it could not begin due to the lack of sufficient resources.