News
Award money flooded as Cricketers make nation proud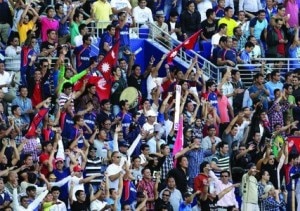 KATHMANDU, Nepal – Soon after the Nepali national cricket team beat Hong Kong in the ICC World Twenty20 quarterfinals paving their way to play the ICC World Twenty20 finals next year, different sports related and even non-sporting organization have been indulging in the race of prize money announcement, which they say is spontaneous as the cricketers  made the nation proud.
National Sports Council (NSC), the sports governing body in the country proposed the government a handsome cash reward of one million rupees to each member of the national cricket team for reaching the ICC World Twenty20 to be hosted by Bangladesh next year.
Nepal claimed their maiden berth in the World Twenty20 after defeating Hong Kong by five-wickets in a one-ball thriller of the ICC World Twenty20 Qualifiers playoff at the Sheikh Zayed Stadium in Abu Dhabi on Wednesday.
While a cash prize of one million rupees have been proposed for the players and coaches by the NSC, Rs 300,000 have been proposed for officials that includes team manager, physiotherapist and technical analyst.
ICFC Finance Limited has also announced the prize amount of rupees ten thousand to each player and the officials for making the nation proud.
Similarly, Kathmandu based Himalayan Whitehouse College has announced a purse amount or Rs.25 thousand to each of the players and officials in honour to their victory in the event.
NSC Member Secretary Yubaraj Lama said the achievement from the cricketers should be recognized. "What the national team has done for Nepal is really historical. They should be honoured with cash rewards for such big achievement," said Lama.
The cash bounty for the cricketers could be expected to rise highers as various organizations have been rewarding them for their achievements. The whole squad for the Qualifiers has already secure a two-year employment in various corporate houses as agreed before the team left for UAE.
The government had also rewarded the national team with Rs 500,000 for lifting the ICC World Cricket League Division-III in Bermuda early this year in May apart from declaring a one million for reaching the 2015 Cricket World Cup.