News
Diplomats' dragon play likely to bring Nepalese politics in the 'leak' !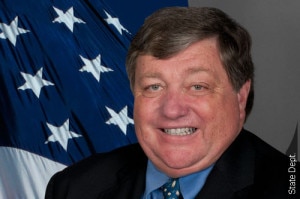 KATHAMNDU, Nepal-The newly elected Constituent Assembly (CA) held just a week ago is not likely to end years' long political instability in the country since no party is likely to garner clear majority after going through the latest polls result. Though the Nepali Congress (NC) has became the largest party under the first-past- the- post (FPTP) system after securing 105 seats and still leading in the proportional representation category by the margin of 0.1 million against Communist party of Nepal United Marxist and Leninist (CPN- UML) till Wednesday, the desire  of  Nepali people to see stable government and formation of new constitutions through CA in the stipulated date as claimed by the top guns of the parties earlier to polls still seem distant far.
The major two political parties NC and UML have more chances to form the government under their leadership on the basis of consensus taking in confidence to other fringe parties representing in the CA.  However, along with the polls' result foreign diplomats have begun accelerating their meetings and exerting their pressure through dialogues with the major leaders of the political parties including polls boycotting CPN-Maoist party led by Baidhya.
Diplomats from neighboring India, China, America, and England among seven countries have been pressuring two major parties NC and UML to go ahead by taking confidence with United Maoists and other terai based regional parties which have formed an alliance after unexpected defeats in the election. The alliance is blaming the government of conducting the polls in unfair manner, misusing government resources and power in all constituencies.  Earlier on Thursday raged by the outcome of polls, the Maoist had warned to walk out of counting alleging that the process was marred by rigging and malpractice. Top leaders of the polls winning party have tried to soothe United Maoists saying 'let the latter exercise the patience' and 'accept the people mandate' as it was the peoples' verdict.
However with the pressure from international community among dozens observer groups who concluded the polls was historically fair, the United Maoist has seemed soft tone and nodded to review its earlier proclamation of boycotting the Assembly. Three is also differences among the leaders of the party whether or not to boycott the polls as party's second in command and vice president said they should utilize the CA as they struggled more than decade for the same.
On the other hand surprising the other political parties and the people, the CPN-Maoist which boycotted the polls after launching two weeks disrupting activities  has demanded 'respectable position' in the CA and ready to be a part of the government, thanks to the envoy for bringing the party into the leak in politics.