News
Vote count begins in various districts; huge crowd gathered in front of BICC Hall in capital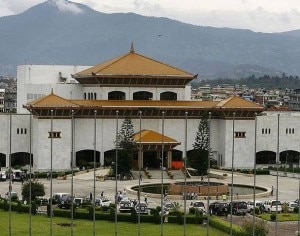 KATHMANDU, Nepal – Vote counting has kicked off in various districts on Wednesday, the next day of the historical day when Nepal votes for the Constituent Assembly (CA). Nepalis voters vote for the CA on Tuesday, which according to Election Commission, conducted in free and fair manner.
The EC has said that about 80 percent of the ballot boxes have been collected while collection of boxes is still on in some remote parts of the country. All the ballot boxes will be flown to district headquarters in a chopper by this afternoon to begin the vote counting, the EC said.
Vote count of Kathmandu constituency 1, 2 and 4 has begun at the Birendra International Convention Center in Kathmandu. The center has served as the Constituent Assembly Building during first CA elections held on 2008.
Meanwhile, tough competition among the leaders of three major political parties – UCPN (Maoist), Nepali Congress and CPN-UML- is expected in the Capital that has 10 constituencies. Senior and renowned political leaders like UCPN (Maoist) chairman Pushpa Kamal Dahal, CPN-UML senior leader Madhav Kumar Nepal, Nepali Congress vice-president Prakash Man Shrestha, youth leaders Gagan Thapa of NC, Yogesh Bhattarai of UML, Nanda Kishor Pun and Himal Sharma of UCPN (Maoist) among others have contested the poll from capital Kathmandu.
Meanwhile, huge crowd can be seen outside the vote counting venue BICC hall. Traffic has been obstructed in the area due to huge gathering of the party supporters amassed  to cheer their leaders.
Vote counting was scheduled to begin at 8 this morning. However, as it has to go through various processes, it has been delayed.
Likewise, television and FM reports said the counting of vote s under the Constituent Assembly election has started at various district headquarters. According to the reports, counting of votes has started in Chitwan, Pokhara, Dhankuta, Jhapa, Taplejung and Morang among others.
The EC during its press briefing on Tuesday evening has said that more 70 per cent voters exercise their voting rights, which is the highest per cent since the restoration of democracy in the country in 1990.