News
More candidates want to register their names in 'LGBT Parliamentarian List'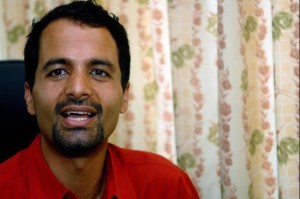 KATHMANDU, Nepal- Nepal found its gay parliamentarian after the 2008 Constituent Assembly (CA) polls for the first time. However, But many more might join the parliament when results of the next November 19 CA polls are declared.
Though, 33 parties' anti polls alliance is attempting to foil the upcoming election at any cost, the country's first organization Blue Diamond Society (BDA),  fighting for the rights of lesbians, gays, bisexuals, transgendered and inter-sexed (LGBTI) is boasting to secure its good position in the upcoming assembly.
A total of 60 LGBT candidates are in CA polls fray representing from various political parties, according to BDA.  Among them 21 are gays, 28 lesbians, 12 transgenders and one is bisexual, and they are running in 30 constituencies of Nepal's 75 electoral districts.
According to BDS's founder Sunil Babu Pant, the candidates are from all across the country, representing from mainstream political parties.
Pant who is Nepal's first openly gay parliamentarian and a computer engineer by profession said they would have contested as independent candidates if political parties had denied tickets to LGBTs.
Pant, who became Nepal's first openly gay lawmaker in 2008 had joined the Communist Party of Nepal-Unified Marxist Leninist with a large block of LGBT people and it is hoped that the candidate would get the blessing of this party comparatively more across the country.
Out of 26.6 million Nepalese only 12.5 million are registered to vote, and the Blue Diamond Society LGBT rights group estimates there are around half a million Nepalese who would fall into the category of third gender.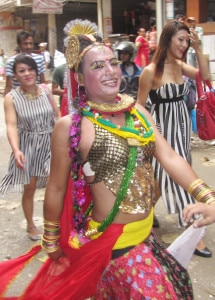 The Communist Party of Nepal-Unified Marxist Leninist is the third largest in the Parliament after the Nepali Congress Party and the ruling Maoist Unified Communist Party of Nepal.
'It is proud for us to be part of the highest decision making body in the country to get our voices heard' Laxmi Ghalan, an LGBT candidate said. The 32-year-old lesbian is in polls campaign seeking the peoples' favor for herself and Rastriya Prajatantra Party, which has named her as a candidate for November 19 polls.
She is confident of her victory and wants to register her name in the list of LGBT parliamentarian after the polls.
Likewise, Badri Pun, a female to male transgender who is contesting under a proportional representation candidate from Communist Party of Nepal (Unified Marxist Leninist) also hopes to follow Ghalan's path.
Chairman of Inclusive Forum Nepal, Pun, who has been nominated by Communist Party of Nepal (Unified Marxist Leninist), is the first Nepali to get a passport in the category of third gender.
Candidates like Pun and Ghalan were a rarity in previous polls, however, breaking their earlier traditions and stereotype concepts, various political parties in Nepal have fielded LGBT as their 'choosy' candidates this time.
Out of total population of 26.6 million, only half a million Nepalese would fall into the category of third gender.