News
Hanuman Dhoka Museum introduces audio guide for tourists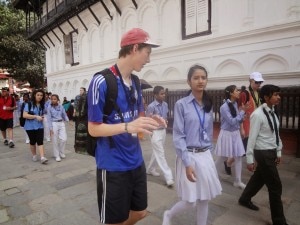 KATHMANDU, Nepal- If everything goes as planned, those visiting Hanuman Dhoka Museum inside Kathmandu Durbar Square at Basantapur can soon take a tour of the museum with the help of an audio guide.
It is the first time that any museum or gallery in the country is providing the audio guide facility to its visitors.
The audio guide is in fact a handheld audio device that plays an audio documentary recorded for visitors touring a museum.
For the purpose, Hanuman Dhoka Museum Development Committee (HDMDC) chaired by Minister for Culture Ram Kumar Shrestha has completed major tasks like finalizing audio, among others.
The Museum is a part of the Hanuman Dhoka Durbar in Kathmandu Durbar Square that is enlisted in the UNESCO World Heritage Site list.
HDMDC is all set to launch the audio guide facility to the visitors after Tihar, which falls this weekend.
Under the facility, each visitor will be given a set of audio player and earphone before the tour of the museum.
"It is a new concept in the context of our country. We want our visitors to get more information about the objects displayed in the museum. So, our committee thought that the audio guide facility can assist the visitors," said Sarswati Singh, member secretary of HDMDC.
The committee has prepared a two-hour long audio for the purpose.
"In the audio, we have focused on all the important information like the description of objects and places of historical, cultural and archeological importance, besides mythical stories," she said.
"Likewise, there are many important objects inside the museum, which has failed to grab visitors´ attention. We have also given brief information about them in the audio documentary," she added.
All the information included in the audio documentary has been verified by historians, cultural experts and archeologists to ensure reliability, according to officials.
HDMDC has recorded the audio only in the English language though such facilities are available to visitors in multilingual versions in developed countries.
"Currently, we have focused on the English speaking visitors. But after sometime, we will also transcribe the audio into different languages like Nepali, Hindi and Chinese, among others," Singh added.
Experts believe that this initiative of HDMDC will help to attract more visitors to the museum in the days to come. A visitor is supposed to tour the museum as per the instruction given by the audio categorized into different sections in line with the galleries inside the museum. There are numerous galleries inside the museum, exhibiting objects under different themes.
In the first phase, the committee is bringing as many as 50 audio devices for the purpose.
But lately, HDMDC is in dilemma whether the audio guides to be made free or included in the entrance fee, or visitors have to purchase them.