News
Heavy smog shuts airports, highways in China; raise fear of health hazards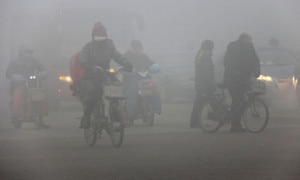 KATHMANDU, Nepal- This photo by news agency AP shows severe smog that has reduced the visibility of a northern Chinese city to less than half a football field.
Authorities in Harbin near the Russian border were quoted as saying that while at least 40 flights from its international airport had been cancelled or postponed on Monday, primary and middle schools and some highways were also closed. The official Xinhua News Agency said some buses also stopped running.
The density of fine particulate matter used as an indicator of air quality was more than 24 times higher than the level considered safe by the World Health Organization.
With the beginning of the month of October, Beijing and a large area of northern China are shrouded in thick smog.
Though it took more than a week for the sky above Beijing to clear, others are still waiting for the smog to get clear, the Beijing News newspaper reported.
The smog led to flight cancellations and motorway closures, drastically reducing visibility in some areas.
Reports said, highways and airports in Beijing were closed down for a week to reduce heavy pollution. Police closed off the six expressways that link Beijing to Shanghai, Tianjin and Harbin. Forty seven flights at the Beijing Capital International Airport were affected by the closures.
At a time people are forced to live amidst the atmosphere of dust and fog, vehicles emissions, fumes from kiln factories, smokes release from industries, which are regarded as key contributors to the air pollution, a recent study report conducted by the International Agency for Research for Cancer (IARC), a division of the World Health Organization (WHO) said that exposure to air pollution is a key cause of lung cancer.. The report made public fearing the people living in the polluted cities of developing countries.
A total of 223,000 people succumb to death worldwide from lung cancer triggered by increased air pollution, the IARC's data revealed. (-prepared with the help of agency reports)