News
High level delegations to study problem of Nepali employees abroad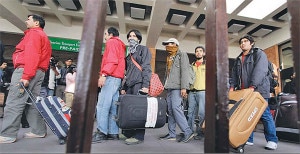 KATHMANDU, Nepal- News regarding the problems faced by Nepali workers in foreign countries has drawn serious attention of the government that it would send high level delegations to the Gulf countries including Qatar to study on this regard.
The meeting presided over by Chairman of the Interim Election Council of Ministers, Khil Raj Regmi, and attended by Minister for Foreign and Home Affairs, Minister for Labor and Employment, Chief Secretary, Officiating Secretary at the Ministry of Foreign Affairs, Director General of the Foreign Department and other senior officials decided to send the delegations to study the problems the Nepali workers are facing in different countries and take necessary initiatives to solve the problems.
Similarly, the meeting has decided to forward process for the amendment of laws if any existing laws hinder the protection of the rights of Nepali workers.
According to the meeting, the government would increase human resources in the Nepali Embassies in the Gulf countries, said the Office of the Prime Minister and Council of Ministers.
Recently, the UK based newspaper Guardian reported that numerous Nepali migrant workers have died in Qatar recently and many more are enduring atrocities and labour abuses. The paper citing the official documents has revealed that at least 44 Nepali workers, many of them young men, have died between June and August in Qatar due to sudden heart attacks or workplace accidents, and thousands more are facing exploitation and abuses that amount to modern-day slavery.
It further have reported that many workers were found getting sick through repulsive conditions in filthy hostels, adding that many of them have been forced to work without pay and have been left begging for food.
The report said that the investigation also revealed an evidence of forced labour on a huge FIFA World Cup 2022 infrastructure project, reducing workers to the status of illegal aliens by refusing to issue ID cards and confiscation of passports by employers, non-payment of salaries and denying access to free drinking water in the desert heat.
The government of Nepal has even called back its ambassador to Qatar over her remarks on workers plight in the gulf estate.