News
Better perceptions require distinguishing Nepal as high-valued destination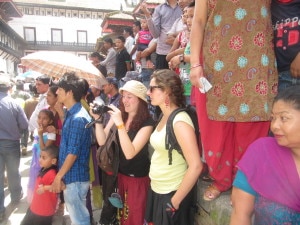 KATHMANDU, Nepal-In the last one decade, tourist arrivals in Nepal have jumped 137 percent to 803,092 in 2012. However, there has been a sharp decrease in tourist length of stay and expenditure.
Government statistics shows that Nepal got golden opportunity to welcome 338,132 tourists in 2003, and their average spending was $79.10 per day per person. Unfortunately, in 2012, per day spending of a foreigner has dropped to a 16-year low of $35.60.
Tourism experts have long been complaining that existing promotional campaigns has not been effective to lure foreigners. Lack of effective branding has also placed Nepal in the 112th spot among 140 countries in the global tourism competitiveness index.
According to the Travel and Tourism Competitiveness Report 2013 (TTCR)  made public by the World Economic Forum, among the South Asian nations, Nepal is  placed below India and Sri Lanka that are 65th and 74th in the rankings, despite Nepal's natural attractions. The TTCR shows that Nepal is ranked 78th in terms of effectiveness of marketing and branding to attract tourists.
Experts say that there are few destinations gifted with all natural gifts and have tremendous potential to grow. Tourist perceptions of Nepal have too often been stereotype with picturesque landscapes, snow capped peaks, glacier lakes among other beautiful scenes and scenario. Although these perceptions bear great significance, Nepal needs other sensings that better distinguish Nepal as a high-value destination.
Experts opined that Nepal's tourism industry earning could grow 20-fold to Rs 600 billion annually within the next five years from the existing Rs 30 billion, if it is commercialized as a high-value destination.
Notwithstanding to say, Nepalese tourism sector suffered a huge decline since 2001 when tourist arrivals sank 23 percent to 275,468 in 2002. However, it started to jump high momentum when the arrivals touched the 500,000 mark in 2007.
In 2010, the government, in coordination with the private sector, launched a campaign Nepal Tourism Year 2011 with an aim to bring 1 million tourists. Although the government was failed to meet the target, it was considered successful to make political understanding among leaders who gave up strikes and protest programme during the entire campaign.