News
Couple breaks fast-unto-death after 47 days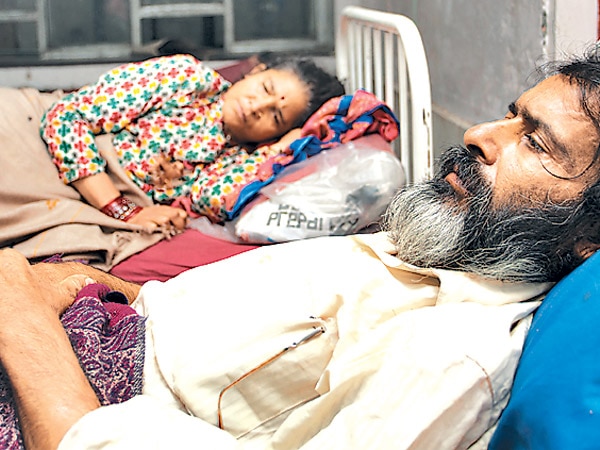 KATHMANDU, Nepal-After the government of Nepal  finally arrested one of the main accused involved in their son's murder, Nanda Lal and Ganga Maya Adhikari of Phujel VDC-7, Gorkha district has broken their 47-day long hunger strike on Sunday morning, an official at the office of the Prime Minister told.
The Adhikari couple ended their hunger strike at 1 am this morning after the government on Friday arrested the main culprit Ram Prasad Adhikari in the murder of their son from Bagbazar, Kathmandu. Krishna Hari Banskota from the Prime Minister's office offered juice to the couple and break their one and half month long strike today.
The rights activists and the government talks team were long been persuading the Adhikari couple to break their strike, however Adhikari couple were stick in their demand of nabbing their son Krishna Prasad Adhikari's murderer. Krishna Adhikari was slain in Ratnanagar, Chitwan on June 6, 2004 by a group of Maoist's cadres.
The arrested Adhikari, who was later taken to Chitwan, will be produced before Chitwan District Court today, polices sources informed.
The Adhikari couple has been kept at the Intensive Care Unit at Bir Hospital in Kathmandu a month ago after their health started worsening. The couple had insisted that they would end their fast only after all those involved in the murder of their son were arrested.
Meanwhile protesting the arrest of their cadre Ram Prasad Adhikari, hte UCPN (Maoist) called on general strike in the wee hours, Saturday. However the party was forced to call of strike after getting immense pressure from public in Kathmandu valley.
Only on Thursday the Supreme Court (SC) had ordered the government to introduce force feed for the couple admitting at the hospital since their health situation was deteriorating due to hunger strike.
Earlier, Maoist supremo Pushpa Kamal Dahal and senior leader Dr. Baburam Bhattarai announced that they had given the order to finish up Krishna warning the government no to made public to the culprits since the case was related to decade long insurgency and it will further foil peace process.