News
Locals, KMC on muscle muse over heritage site walk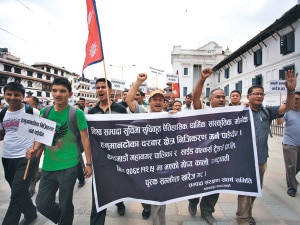 KATHMANDU, Nepal- Locals of Basantapur, a Unesco world heritage site, and the office of the Kathmandu Metropolitan City are at odds for the long time over dispute to include Dharahara tower in the site walk list raising entry fee to the tourists.
The agitating locals of Basantapur, better called as Kathmandu  Durbar Square on Tuesday submitted a complain to the Commission for Investigation of Abuse of Authority (CIAA), and demanded probe into the agreement made between KMC and a private company to  integrate the tourist tickets of the Basantapur Durbar Square and the Dharahara citing it a 'secret deal'. The locals have also accused the KMC officials of 'receiving heavy amount' to sign the deal.
A 300-strong group, comprising locals and other supporters, handed over a collection of 2,200 signatures to CIAA Secretary Keshav Bhattarai, requesting the anti-graft body to do the needful to have the agreement scrapped at the earliest.
The agreement between the KMC and Sidewalkers Traders (P) Ltd makes a climb of the Dharahara, an ancient tower built by the first prime minister of Nepal Bhimsen Thapa some 200 years ago, obligatory for every tourist visiting the Durbar Square and vice versa.
The agreement supposed to be implemented from May 1 has been put off "indefinitely". However, locals have been protesting with a one-point demand of the dismissal of the deal, saying that the agreement is an ill motive of the KMC to privatize tourism in the area.
The agreement says each tourist will be charged Rs 250 more on the existing ticket of Rs 750 issued as permit to visit the Durbar Square area. Thus, the Rs 1,000 ticket would incorporate the fees for tourists to visit the Durbar Square and climb the nine-storey Dharahara.
The locals have already launched a series of protests ranging from padlocking the KMC branch office at Hanumandhoka to staging sit-ins at the main metropolis office in Sundhara.
According to the document, KMC would be given 25 percent of the revenue, while the private company would take the rest after separating 5 percent for Jatras and other local religious activities.
Locals warned of sterner protests—beginning with a relay hunger strike and if needed fast unto death—if the CIAA too failed to act adequately.