News
Airline Operators want standard operating procedures to deal with runway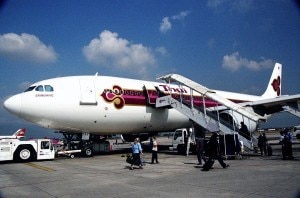 KATHMANDU, Nepal- At the time when the Tribhuvan International Airport management is opting for the best alternative up to ban the wide-body aircrafts to run the airport amidst defaults on its runway, the Airlines Operator's Committee Nepal (AOCN) has highlighted the need to develop a separate Standard Operating Procedure (SOP) for effective coordination and planning to deal with runway problems at the airport.
The meeting of representatives of international airlines operators in Nepal, specially those operating wide-body aircraft, held here on Wednesday came to a common conclusion that a separate SOP, which will create a standardized system by means of which the airlines can prepare themselves when runway problems emerge, is needed.
However, the committee has said that it will prepare a list of possible ideas related to flight operations by wide-body aircraft and will submit that to Civil Aviation Authority of Nepal (CAAN) during a meeting to be organized on Friday.
As the country's sole international airport suffered repeated cracks on its runway, raising safety concerns, the CAAN on Monday had asked all international carriers to find alternatives to their wide-body aircraft flying into Kathmandu.
CAAN Director General Ratish Chandra Lal Suman has said that an aircraft has two types of load factors—dry operating weight and pay load. Dry operating weight cannot be reduced, but pay load, which has three components—passengers, fuel and cargo—can be reduced.
The CAAN has also directed the airport improvement project and the maintenance team to access whether there are other causes for runway cracks besides aircraft load.
Qatar Airways, Etihad Airways, Air Asia, Korean Air, Thai Airways and Dragon Air are some of the major wide-body operators in the country with another Turkish Airlines beginning the Nepal flights with wide-body aircraft from September. According to AOC, Thai Airways does not have any narrow-body aircraft. Similarly, Pakistan International Airlines, Biman Bangladesh and Air India normally operate narrow-body aircraft but during the peak season they too use wide-body aircraft.
According to officials, any restriction to the operation of wide-body aircraft on Nepal flights will suffer Korean Air the most as it is impossible for it to operate narrow-body for a long flight of eight hours.
Viewing the same, the AOCN is preparing the report about best possible ways that will not have high impact on wide-body aircraft operators.