News
Nepal promoted among Swedish tourists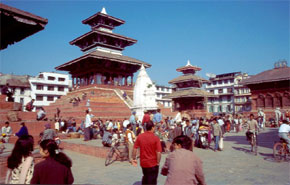 KATHMANDU, Nepal- The Embassy of Nepal in Copenhagen, Denmark organized a promotional programme entitled "A Presentation on Tourism, Trade and Investment Opportunities in Nepul" at Restaurang Himalaya in Goteborg, the second largest city in Sweden on 06 July 2013.
A team of the Embassy officials comprising of Ram Kaji Khadka, Counsellor/Deputy Chief of Mission, Prakash Adhikari, Second Secretary and Uttam Prasad Neupane, Attache conducted the programme.
The Counsellor made the presentation, highlighting on major tourist attractions in Nepal, new and niche tourism products such as rural tourism, home stay, send home a friend, MICE tourism, meditation, honeymoon and major tourism clusters like nature, culture and adventure.
lt was also emphasized during the presentation that the brand Nepal segment such as weekend breaks, amazing adventure and life time experience could benefit tourists visiting Nepal rejuvenate their body, mind and soul with the unprecedented opportunity to experience the perfect blending of nature, culture and society with the service provided by friendly and ever smiling people.
Nepal's tourism brand-'Naturally Nepal, Once is not Enough' was thus repeatedly emphasized in the presentation. The impact of Visit Nepal Year 2011, subsequent upward curve of the tourist arrivals by air, tourism policy of Nepal and its vision to host 20 million tourists annually by 2020 and tourism campaign year 2013-2020 to realize the vision through the creation of destination demand, bringing Nepalese travel trade and international travel trade and consumers together, establishment of backward and forward linkages and achievement of higher spending, longer stays and year-round arrivals were also highlighted during the presentation.
A montage that won Grad Prix Award in Czech Republic in 2006 was also displayed in the programme.
There was a significant presence of travel agents, Nepal enthusiasts, friends of Nepal and potential tourists from Goteborg and its vicinity and Nepali expats and students in the programme. All the guests were requested to visit Nepal once and encourage their friends, relatives and kins to visit Nepal at the end of the presentation that was followed by a dinner. Tourism related materials including brochures, CDs and booklets provided by Nepal Tourism Board were also distributed among the guests.
The programme organized as part of economic diplomacy is expected to have positive impression among the guests encouraging them to place Nepal at the top of their travel destination in their future travel plan.